Steve Wozniak visits campus: Q&A with Apple Co-founder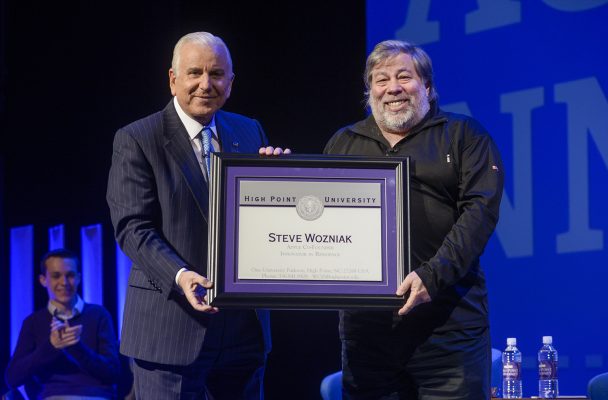 By Alexis Ancel // Editor in Chief
Feb. 19, High Point University's Innovator in Residence and Apple Co-founder Steve Wozniak visited campus to continue working with students on the highly anticipated Woz Project. Following an interview with HPU President Nido Qubein, Campus Chronicle Editor in Chief Alexis Ancel had the opportunity to sit down with Wozniak during a brief car ride interview to ask him a few questions about his career, life advice and the upcoming generation. Here is what they discussed:
Q: What would you say is the best mistake you have ever made?
A: I can't answer that because I don't look back on things. I actually look back on designs that I had where people said, "Why didn't you do it the way it's taught in high school? Numbers that go into order?" And no, no, no. I knew the technical reasons why I was doing things. My brain was working all along, so I really don't have those kinds of mistakes. I don't have any mistakes.
Q: What is the best piece of advice that you've ever been given that you'd like to pass on to students or young people today?
A: Who you are as a person is in the truths that you tell. My father gave me that advice when I was very young. He gave it to everybody and he didn't ever push his values on us, except for that one, sort of. Good advice I got, also, was don't push your values. (Don't) choose schools, choose religions, whatever, for your own children. Let people choose to be educated and choose for themselves.
Q: Okay, so what's the story with the metal business cards?
A: The metal business cards are partly because I like to do unusual and unique things, and I've had them for a long time, but there's a 9/11 story. After 9/11 you would go on an airplane flight and they would give you plastic knives instead of metal knives, and the plastic knives would break. They couldn't even cut steak. So I would pull up my metal business cards. They slice the steaks real nicely. So there's little history there.
Q: What inspires you about millennials and young people today?
A: I think that younger people are very much thinking in their minds of ways to make life good for people, to help other people that need help, and to get rid of a lot of the facets of, "Oh, we're just controlled by all the people who have wealth and money in businesses." I think they're looking to escape from that and looking for paths out. And the Internet is probably the key that might lead some direction someday.