The Woz Project continues making progress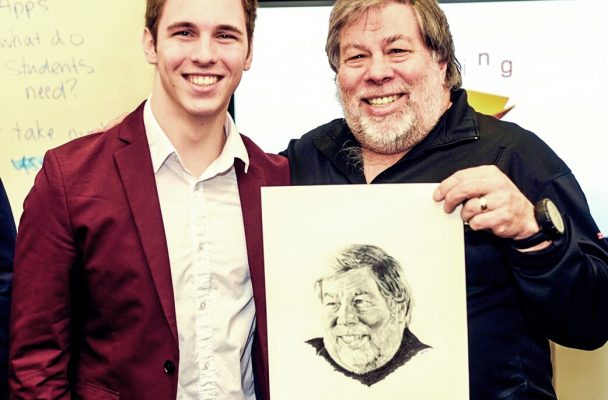 By Ann shelley // Opinion Editor
In early March 2016, the physics department called a meeting for all of its undergraduate majors to discuss an opportunity: the chance to work with Apple Co-founder Steve Wozniak. Many of these students applied to be part of a long-term project, and 20 students were selected to work directly with Wozniak.
These 20 computer science and physic students make up HPUminds, an SGA-recognized organization that works directly with Wozniak on the completion of an autonomous golf cart. The plan was to prepare a three-year project pitch for Wozniak.
"In exactly three weeks, the team and I developed a plan to design and build a self-driving golf cart that would function as a mobile kiosk," said HPU junior Michael Welter, president of HPUminds.
Later that same month, Wozniak flew in from California to engage with the HPU students and hear the HPUminds pitch. Excited by the idea, he spent time on campus discussing his thoughts on how to best approach and execute it. Each student was able to spend about a minute of one-on-one time with Wozniak following the pitch.
"High Point University is always a very high priority for me," Wozniak said.
The HPUminds students make up three sub-teams for what has become known as the Woz Project—Vision, Sensor and Mechanical Control.
"It's been a dream being a part of this amazing group of intelligent, motivated programmers and physicists, especially as it's evolved from an intriguing project into a formidable extracurricular program," Welter said.
The students have come quite far with the cart and were even able to show off some of the functions to their parents during Winter Family Weekend this past February. The group hopes to have this self-driving golf completed by this coming summer.
"Our main goal of this year's Woz visit was to brainstorm potential functions for our completed cart—functions that will reflect the innovative, creative and productive HPU culture," said Welter.
Woz project members recently held a phone conference with Wozniak to update him on the project's progress. Wozniak has been an Innovator in Residence at HPU since 2016 and recently visited campus on Feb. 19 to further work on the project and meet students.
"Wozniak is a genuine inspiration to me because he spends his free time traveling and teaching instead of simply riding the wave of his past successes," Welter noted. "It has been an exhilarating experience working under the advisement of such a brilliant innovator."
Top: Students in the physics and computer science majors work together on the Woz project. Bottom left: Steve Wozniak speaks with HPU President Nido Qubein. Bottom right: Michael Welter poses with Steve Wozniak during a visit on campus. Photos submitted.