Students develop artificial intelligence chatbot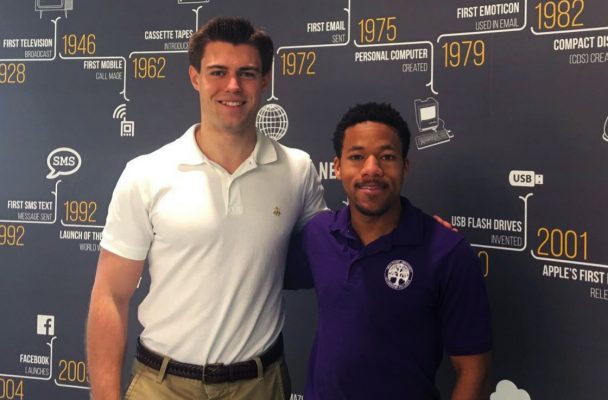 By Nicholas Bainbridge // News Editor
Many students, especially incoming freshmen, have a hard time adjusting to college and finding the information they need. A team of High Point University students is working on a solution to help students through this by using artificial intelligence in the form of a chatbot, or a virtual concierge.
"The chatbot hunts for the information that students need and connects them to the right resources," said Mark McKinney, HPU sophomore and project manager. "The chatbot takes an experience that would have initially required students to scour through several webpages, services and apps for information, and turn it into a simple conversation in a singular chat environment."
Gaining access to the chatbot is quite easy by just sending a simple text message. The design team has myriad features planned, but the initial release promises two main aspects in particular. First, it will serve as a faculty director. For example, one could text the chatbot with a question such as "What are the office hours of the Dean of the Business School?" The bot would then respond with exact office hours, followed by location and additional contact information.
Second, the team also plans to integrate the chatbot with Tapingo, a popular food ordering app, to enable students to have their Tapingo orders delivered for free to their dorm buildings and study areas. This not only prevents study interruptions, but it also gives HPU students flexible jobs—and all with a simple text message.
The service is still in its early stages. It was initially created to be used through the Facebook messenger app, but growing concerns about Facebook's privacy led the chatbot's development team to shift it to a text-based program.
In the future, a feature for class feedback and evaluations will be implemented to allow real-time feedback and so that the team can implement changes as issues arise.
McKinney came up with the idea during the summer of 2017. He had heard that many incoming freshmen had trouble adjusting to life at HPU and found it challenging to find the resources and contacts they needed on campus. He realized that a chatbot could remedy this situation and allow freshmen to adjust more quickly to college life at HPU. McKinney wrote a prototype of the chatbot and presented it to his mentor, Akir Khan, who helped him solidify the project's vision and build the perfect team.
"Without Akir Khan's guidance, I wouldn't have been able to meet talented and dedicated students such as Dax Loy (lead developer) and Caleb Willis (business partner)," McKinney said. "He has given me immense encouragement and motivation throughout the process. I'm grateful for his help and all the work that the team has done."
McKinney's development team is currently looking for more programmers for their project.
"We need people who can quickly understand documentation and are familiar with natural language processing, artificial intelligence and computer languages like Python and Javascript," McKinney said.
The chatbot will be supported by HPU, but there are also plans to turn the AI into a profitable venture. McKinney has expressed interest in allowing HPU clubs and other organizations to advertise through the chatbot in exchange for more capital to support updates for the virtual assistant.
For more information, the team can be contacted at hpuchatbot@gmail.com or mmckinne@highpoint.edu.