T-Pain headlines Spring Concert with all the best throwback hits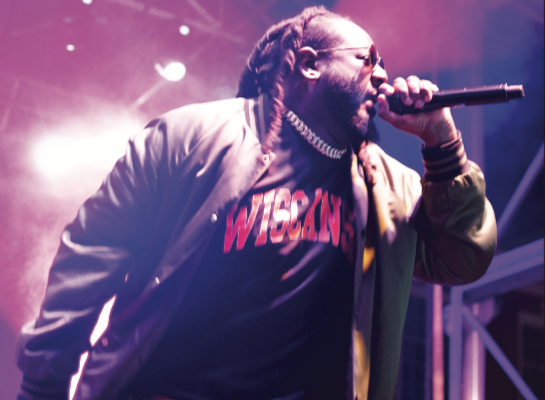 By Ann Shelley//Opinion Editor
On April 13, High Point University's student body gathered for the highly anticipated Spring Concert on the Roberts Hall lawn. This year's headliner, T-Pain, has created an enormous influence in the world of hip-hop and R&B with his self-styled auto-tune music.
T-Pain started his music career in Tallahassee, and went on to build a music empire. From the years of 2006-09, he released more than 30 singles and eventually became one of the most featured artists of the era.
Most of T-Pain's music is what we were all listening to when we were just getting started in our early middle school days, and almost everyone was excited to have a throwback performer.
"Considering T-Pain's song 'Buy U A Drank' came out when I was in third grade, this concert was long overdue," said sophomore Abby Pinto.
Some of his other greatest hits include "I'm n Luv (Wit a Stripper)," "Bartender (feat. Akon)," "Up Down," "Booty Wurk" and "5 O'Clock." Although his auto-tune sound has had a lot of backlash, it adds to his identity as an artist. The echoing "T-Pain" that starts most of his songs has become an iconic and instantly recognizable part of his brand.
"I liked it because I used to be a huge fan of his music and still listen to it," said senior Tasha Scotto Di Carlo. "It was great for HPU to host such a great last concert, especially for the seniors."
Although we haven't heard many hits from T-Pain in a while, all of his music is timeless, and he will go down in hip-hop history.
 "It was a good throwback concert to go to, but I felt like I was stuck in the past," said junior Carly Raphan. "T-Pain was my favorite when I was younger, so it was awesome to see him."
This concert brought everyone together for one last big event of the 2017-18 year. Although almost everyone loved the throwback aspect, the opening act with HPU sophomore McKenzie Jenkins set off the tone right off the bat. Jenkins is part of the fraternity Pi Kappa Phi and is passionate about making his own music.
"I'm a fan of bringing students up as the opening acts," commented junior Jason Allikson. "It gives them great experience right off the bat, and they know what we like to listen to."
Though the concert went by too fast, T-Pain brought a lot of energy to the crowd and ultimately put on a very good show. It seemed like most students appreciated such a fun end to the year.
"In the three years I've been here, this concert had the most hype about it," said junior Will Burke. "For the most part, this concert delivered and it was a fun time."