Students gain insight from accomplished journalist Byron Pitts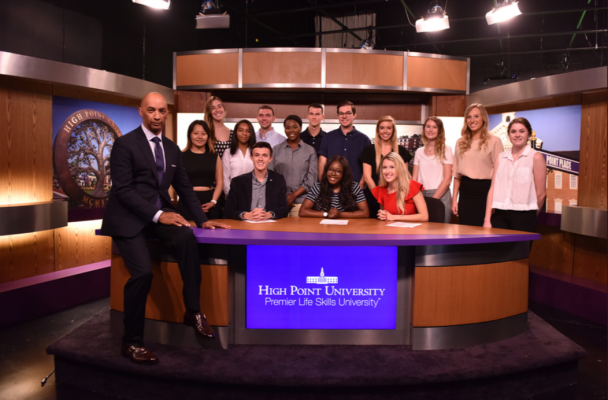 By Devon Wilkinson// Editor-In-Cheif
A mad scramble took place in the control room and Studio B on Oct. 9 as dozens gathered to witness Byron Pitts in action. Byron Pitts is an American journalist known for his work on ABC, CBS and 60 minutes; he also recently became the newest Journalist in Residence at HPU.
Like a rehearsed ballet or synchronized swimming team, every cameraman, teleprompter operator, and sound checker had a place in the newsroom. The scattered voices completely evaporate once the director yelled, "Action." Inspiring news anchors, journalists and communication majors gathered around Pitts while he shot promotional videos for the university. 
"I'm Byron Pitts, Welcome home!" Once the team got the shot they were looking for, Pitts' professional and serious persona completely shifted the moment the camera cut. An outgoing and personable, charismatic character emerged.
"You guys know any good jokes?" Pitts asked students to break the ice before he talked to the future journalists about their hopes and dreams.
Amy He, senior journalism major and the teleprompter operator in the newsroom was one of the excited students eager to meet with the accomplished journalist. "I actually got to feel like I had an important role in working the teleprompter while Pitts recorded his promo," He said.
 He was the one in charge of conducting Pitts through the recordings. "I love how HPU gives us opportunities like this; I always end up learning so much," He said. "This time, Pitts taught me how the tiniest thing can have a huge effect in a newsroom."
Pitts was equipped with a plenty of knowledge and advice for post-college life. "Be professional and be respectful," he told students about how to handle themselves on the job.
A luncheon with Pitts and the students also provided some time to connect more intimately with a group of inspiring journalists who have shown exceptional dedication and promise inside and outside of the classroom. 
"Talking to Byron about his experiences gave me more insight on the career path I am planning to take," said Logan Carter, HPU junior and a leading anchor for on the HPU news team; Carter was one of the lucky students to attend the lunch. "He gave me good advice on the importance of creating an end goal. He said, 'If you set the destination, it will be easier to reach.'"
Pitts had an end goal when he set out in the unforgiving world of journalism, and as a person who has achieved everything he worked for in his professional career, he was able to give his advice to those who soon will find themselves in similar situations. Pitts held nothing back. The students' eyes appeared captivated by his words and refreshed with his honesty. He talked about being a black man entering the industry, and he talked about the prejudices and racism he's has faced along the way. 
"Our job, as journalists, is to put truth to power," Pitts said. He spoke about those he looked up to when he was starting out.
"What I admire most about Diane Sawyer is her ability to be  assertive without coming off aggressive," Pitts said. He also told a story about Bryant Gumbel, who was a television journalist doing an interview with a Russian speaker at a point in his career. Pitts said Bryant interrupted the interpreter during the interview to ask the interviewee the question himself in perfect Russian. "From that I took away, always be prepared." 
"I knew I needed to start small and build my confidence," said Pitts. He constantly stressed the importance of working hard and being true to who you are. 
"It's all about you at this stage in your life," Pitts reminds the younger listeners at the table. "Go and create the person you want to be." 
Byron Pitts meets the inspiring journalist in the communications department at HPU. Photo by Lee Adams