'Black Ops 4' bets big on brand new battle royale mode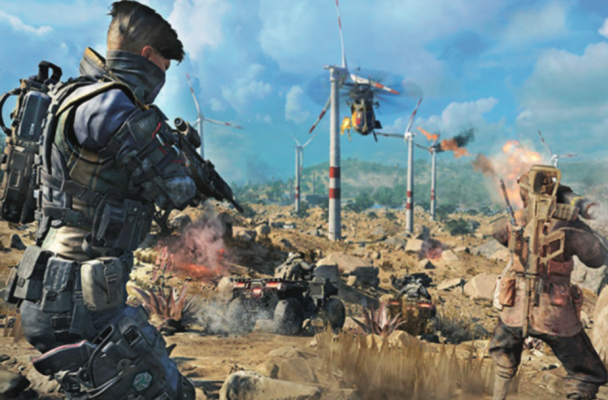 By Jack Murphy// Staff Writer
Another year, another installment in the Call of Duty franchise, "Call of Duty Black Ops 4" is the fifteenth, yes-fifteenth, "Call of Duty" in the franchise, and the sixth "Call of Duty" developed by the fan-favorite studio, Treyarch. This is the first "Call of Duty" game not to feature a campaign and instead replace it with a battle royale game mode titled "Blackout."
I've been a fan of the Call of Duty series since the beginning of its peak in 2007 when the first "Modern Warfare" game came out. However, I haven't been a fan of the last four titles in the series. I feel it has just grown stale, and I've grown out of it and moved on. However, I've always been a fan of the Zombie game mode. Treyarch continues to deliver games with this one mode, and as long as they do, I will keep coming back to the series. So how does this installment compare to the rest? It would be one of the best titles in the series if it were finished.
Let's get the positives out of the way, and I can't believe I'm writing this down, but Blackout is easily the best part of the entire game.
 They were able to bring back the nostalgia of hanging out with your friends, talking to them online and brought back the new battle royale experience that games like "Fortnite" and "PUBG" have made so popular, which perfected the experience. I can not tell you how much fun I've had with my friends playing countless hours of "Blackout." The game brought back memories of the great times in middle school and early high school years. 
The Zombie mode underwent a lot of cosmetic changes, throwing out everything zombie fans are used to and creating something that still plays like the classic mode, but with many new elements. Three zombies maps were dropped on launch, and each of them has their positives and negatives but overall brings on great experiences that are a bunch of fun. There's just one problem with zombies and overall every mode in the game. It becomes clear the game came out way too early and that you can't go through many rounds in zombies without your game crashing and causing you to restart.
I don't know who Treyarch and Activision had testing "Black Ops 4," but it has been nearly a month since the game was released. After multiple patches attempting to fix the game, it's still breaking for everyone, regardless of console and game mode. I truly do believe Activision wanted Treyarch to release this game two weeks before "Red Dead Redemption 2," the most anticipated game of the year so that they could make more of a return of the game's sales for at least two weeks. 
As such, the gaming community is suffering from an incomplete product that has the potential and shows the signs of an entertaining game. If these glitches and bugs weren't still causing problems, I wouldn't have been so critical of "Black Ops 4." As of now, it's a product that needs to be fixed but shows potential greatness and can still be a fun time for all fans of the series and gamers.
"Black Ops 4" mixes up the usual Call of Duty experience by solely focusing on a variety of multiplayer modes. Photo by Activision/Treyarch