Kilos for Kofkin: Lifting weights and lifting others' spirits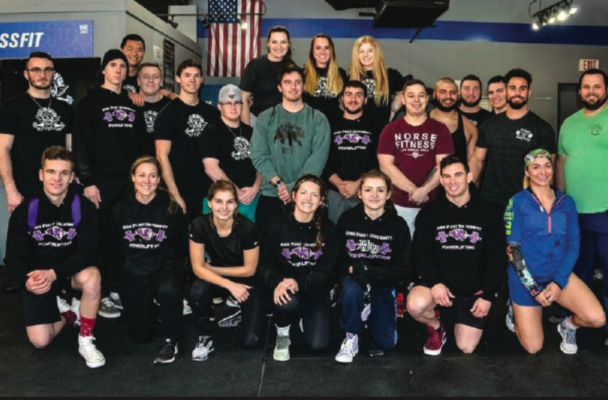 By Nicholas Bainbridge// News Editor
Lifting weights may appear to some to be disconnected from helping those who struggle with suicidal depression, but the High Point University powerlifting team is offering its to support to the charity "To Write Love on Her Arms," a group dedicated to offering mental health resources to help them overcome their plight. 
The team is holding its annual powerlifting charity event on February 2nd, where weightlifters from all weight classes divisions will display feats of strength and measure their mettle against their peers. The event will make use of the United States Powerlifting Association; however, membership is not a prerequisite for participating.
Meagan Deppe, the founder of the HPU powerlifting team started the event and gave it the name "Kilos for Kofkin." She wished to honor the memory of her powerlifting coach, Hastings Kofkin, who supported her as she developed into a proficient weightlifter. 
"He noticed me lifting in Slane and offered to start coaching me," recounted Meagan Deppe on how they met. "I spent my whole freshman and sophomore years training with him. He was insanely smart when it came to coaching and strength training."
Kofkin helped Ms. Deppe hone her skills, and she used what she learned from him to bring others together in order to form the HPU powerlifting team.
"I got really good at powerlifting and I competed a few times, even qualifying for Worlds at the time," explained Ms. Deppe. "At that point I wanted to make powerlifting a bigger thing at HPU since Hastings was able to coach me to that point. I had a few friends and we would always lift together in Slane and that became the team."
During the summer of 2016, Hastings Kofkin took his own life, devastating his friends and family. Not wanting him to be forgotten, Ms. Deppe resolved to uphold his memory while helping others escape the situation he was in.
"I knew I wanted to honor him," Ms. Deppe revealed. "I couldn't imagine his memory just fading so I spent the summer trying to figure out so I spent the summer trying to figure out ways to do it. Since powerlifting brought us together I thought a charity meet would be perfect, and since I had the team established at HPU at that point I thought it would be the perfect platform." 
After becoming determined to host this charity event, Ms. Deppe contacted 336 Crossfit and arranged for the event to take place there, and it proved to be a success at generating money for charity as they received donations through their EventBrite page. 
The event not only served to honor the memory of Ms. Deppe's departed coach, but also brings the team together and inspires them to work harder.
"The event definitely means a lot to the team in getting our name into the High Point community, but I would say that it really reminds all of us that we can make a difference in each of the things we do," explained Meagan Pusser, the current team captain who took over after Ms. Deppe graduated. "It is really great to feel good doing something you love and know that you are also helping an organization that provides resources to those who are struggling. I think we all enjoy that our hobby can make a positive impact." 
The HPU Powelifting team at the charity event to raise money for charity organizations
Photos by Meagan Pusser