'Spider-Man: Into the Spider-Verse' is the best Spider-Man movie ever made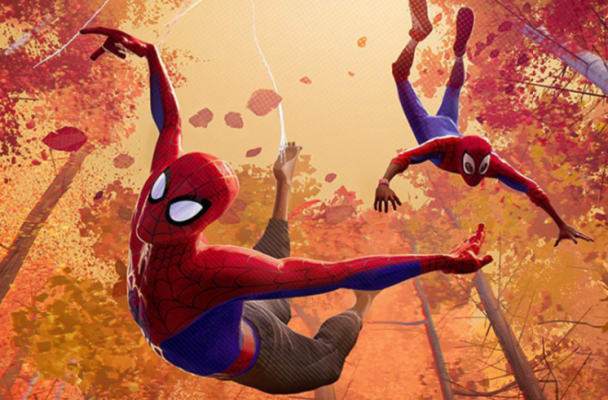 By Jack Murphy/ A&E Editor
Spiderman is back, this time as Miles Morales and in an animated form called "Spider-Man: Into the Spider-Verse." "Spider-Man: Into the Spider-Verse" is directed Bob Persichetti, Peter Ramsey, Robert Persichetti Jr. and Rodney Rothman and stars Shameik Moore, Jake Johnson, Hailee Steinfeld, Mahershala Ali, Liev Schreiber, Nicholas Cage, John Mulaney, Brian Tyree Henry and many more. "Spider-Man: Into the Spider-Verse" follows Miles Morales as he tries to learn how to be Spider-Man. Kingpin opens up a portal to another dimension that transports a bunch of other Spider-People to his dimension and now he has to figure out how to get them home. This is the seventh Spider-Man movie to be released in theaters by Sony. Sony made two great Spider-Man movies along with director Sam Raimi. Since then they have failed without Marvel's help, except for now.
I'd heard so many positive things going into "Spider-Verse" and usually I'm let down because its almost always overhyped. However, and I can't believe I'm saying this, but "Spider-Man: Into the Spider-Verse" is the best Spider-Man movie ever made. It was so entertaining and well made I couldn't believe it. The writing is fantastic and the concept of multiple Spider-Men is just so entertaining. Miles Morales is a fantastic protagonist that the writers took time developing Miles and making the audience care for him and his journey to become Spider-man.
Miles also doesn't know how to use his powers for most of the film, unlike in other Spider-Man films where it doesn't take them too long to learn how to be experts with their powers. Miles doesn't know how to use them for nearly the entire film. The other Spider-People deserve so much praise because they are all awesome, each in their own creative way. I'm not gonna spoil them for you, but each of them is voiced by a celebrity cameo, and it's fantastic.
 The animation style and the attention to detail is phenomenal. The comic book design of the film takes a little bit to get used to at first, but after 15-20 minutes, your eyes should become well adjusted. The way they animated the action scenes is just so unique, I really can't help but admire the animators' pristine work and effort to making something that was so fluid and entertaining to say the least.
 The main issue I had with the movie was the villain, Kingpin. He was really under utilized, and while they do a good job explaining why he's doing what he's doing, he only appears when it seems necessary for the plot. However, that might be because they would rather take time to develop the other Spider-People, which, if that's the case, I think they made the correct choice.  The other issue I have with the film is the use of music at times, especially during the sad scenes of the film. The soundtrack is mostly rap music, which I love and it works many times throughout the film, but during the more disturbing portions of the film, the songs they chose to use are very generic and don't really match. One of them features Lil Wayne, and no one loves Lil Wayne more than me, but it just didn't fit with what they were going for.
Overall, "Spider-Man: Into the Spider-Verse" is amazing and the best Spider-Man movie ever made. "Spider-Verse" 100 hundred percent deserves to win the Oscar for Best Animated Picture. If it doesn't, it would be a major mistake on the part of the Academy, although it wouldn't be shocking because it's the Academy and they screw up quite frequently. I'm gonna give "Spider-Man: Into the Spider-Verse" an "A."
Spider-Man and Miles Moralis are the two main characters of 'Spider-Man: Into the Spider-Verse.' Picture by Sony Animated Pictures