'A Star is Born' lives up to the hype as Cooper and Gaga thrive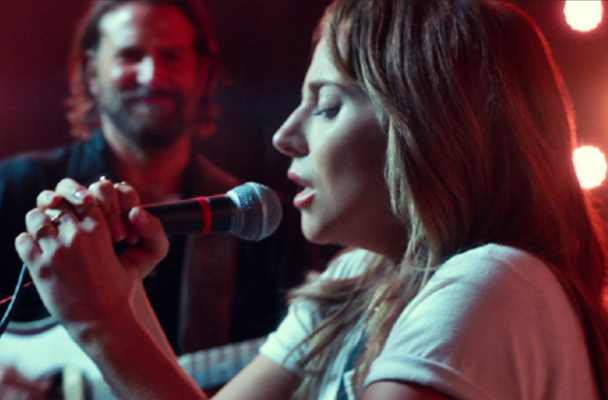 By Jack Murphy// A&E Editor
Yes, I know "A Star is Born" came out in October, and everyone has been hyping it up since it came out. I heard Bradley Cooper makes his directorial debut with A Star is Born, the fourth iteration of the film since the original debuted in 1937. A Star is Born also stars Cooper, alongside Lady Gaga in her debut as an actress, Sam Elliot, Andrew Dice Clay, Anthony Ramos and Dave Chappelle. The movie follows a famous country singer named Jackson Maine (Cooper), battling drug addiction and alcoholism behind the scenes. Meanwhile, Ally (Gaga) is a waitress and aspiring singer/songwriter performing at a drag bar. After a concert one night, Maine stops at a random bar to get a drink. When he sees Ally perform he is so impressed and wants to get to know her and their relationship grows from there. 
This film gained a lot of hype after it debuted at the 2018 Toronto Film Festival, and since its October theatrical release, it has earned many nominations at the major award shows, including seven Oscar nominations. As I've begun watching all of the best picture nominees for this years academy awards, this was one of the few that I hadn't seen that I was very interested in checking out. To say that "A Star is Born" surprised me and exceeded my expectations is an understatement.
First off, Cooper and Gaga knock it out of the park. For the first half of the film, Gaga completely steals the show. I've been a fan of Lady Gaga as an artist for the last ten years since she hit it big among the industry, and she has continued to evolve year after year making herself one of the most talented and elite voices in the music industry. While she is terrific in the scenes where she has to sing and shows off her incredible vocal range, I couldn't believe how good of an actress she was, as she didn't have any bad scenes throughout the film and her chemistry with Cooper was absolutely incredible. Cooper throughout the first half of the film is really good, and his singing chops were a cool surprise, but once the film takes a tonal shift in the second half, Cooper gives the best performance of his career.
Cooper's performance throughout the second half of the film shows off the struggles of living in the spotlight, struggling with addiction and feelings of intense remorse and guilt. Without going into spoilers, even if everyone has already seen the ending or has had it spoiled for them, including myself, but as the second half continues, Cooper gets better and better. I should expect this by now from an actor of Cooper's caliber, but man, his performance was the emotional linchpin of the second half. Also, I never knew Bradley Cooper could sing this well. Obviously, Lady Gaga was going to kill it singing, she has one of the best voices in the music industry, but for Cooper, not only to sing well alongside her, but to keep up with her and make the songs work is just incredibly impressive, which leads me to the soundtrack.
 This is one of the best soundtracks I've heard from a film in the last five years. I know "Shallow" is the one that's gotten a lot of mainstream attention, but songs like "Always Remember Us This Way" and "I'll Never Love Again" both filled their respective purposes in the film while also being really good songs on their own.
Cooper not only delivers as an actor but also as a first time director. It's hard to get me emotional in movies anymore, only Pixar knows how to get me in my feels, but if Bradley Cooper's direction gets me close to crying, I know he did a great job. All jokes aside and besides a couple of things that felt rushed, Cooper did an excellent job for his first time, even if this was the third remake of a film.
Overall, Bradley Cooper and Lady Gaga knock it out of the park and make an emotional and memorable film about the rise to fame and the trouble that can cause alongside addiction, depression, and the importance of being yourself, regardless of what anyone tells you. From the soundtrack to incredible performances from the entire cast and for delivering on the hype, I'm gonna give A Star is Born an "A."
Bradley Cooper and Lady Gaga performing the song 'Shallow,'  which is nominated for Best Song at the Oscars, and received four nominations at the Grammy's. Photo by Variety