Cute canines spread love on Valentine's Day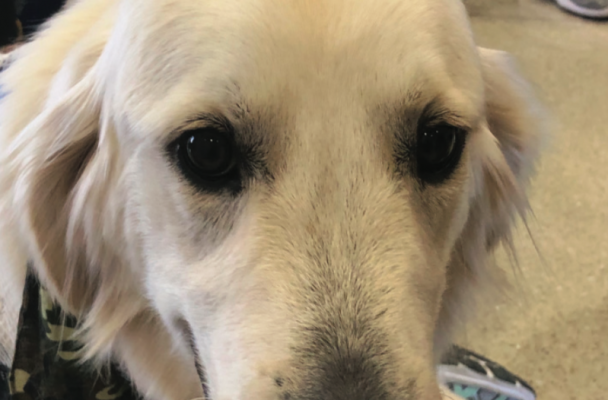 By Faith Foushee// Staff Writer
In the spirit of Valentine's Day, on Feb. 13, 2019, Patriot Rovers held a kissing booth to help students relieve their stress by petting and getting kisses from dogs. 
Patriot Rovers is an organization that seeks to aid people suffering from mental health issues with a particular focus on military veterans struggling with PTSD. Sometimes they hold other events like this one to raise awareness.
Students got to take pictures with the dogs. With midterm exams coming up students need something to help them take a moment to pause and focus on something other than their studies. 
Lena Corrado, a student at High Point University, attended the event. She reflected on how the dogs made her feel and said she was ecstatic to see them.
"The event was so refreshing, especially with the semester getting tougher," said Corrado.  "I didn't realize how much I missed my dog until I was there, but they made me so happy. I really hope they come back to campus, this was such a good idea!" Corrado expressed her gratitude towards Patriot Rovers. The Patriot Rovers have not yet planned another event on campus, but they will be back soon.
While at the event Isabelle Germino, the marketing manager for Patriot Rovers spoke about the importance of the organization. 
"Patriot Rovers is an amazing organization that provides a much-needed service to those who have served our country," said Germino. "These dogs can complete tasks and provide comfort that improves the lives of their veterans."
Isabelle spoke in depth about the dogs' process training process. Every day, they are taught to do specific tasks and get comfortable interacting with people. 
"Throughout their year-long training process these dogs will also spread joy as they train in the community of High Point, especially on days like these when both dogs and humans get to cuddle and take pictures," said Germino. Patriot Rovers holds other events each month around the Triad. 
For students who were unable to get a kiss from one of these dogs should know that more puppies are soon to come.
One of the service dogs giving a smile during the event. Photo by Faith Foushee