Tiny house workday with HPU's Circle K organization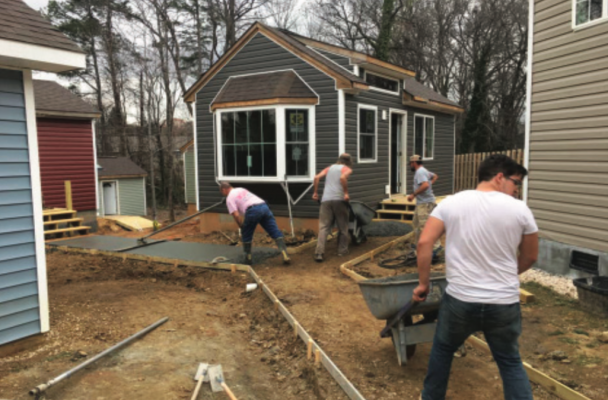 By Ally Ortolani// Organization's Editor
The Tiny House Community Development (THCD) Inc. held a hands-on volunteer event on Feb. 16 to develop tiny house communities, as an effort to reduce homelessness throughout North Carolina.
The non-profit organization believes that creating a tiny house community can provide safe, stable housing environments for individuals experiencing homelessness. THCD is currently working with the City of Greensboro and the City of High Point to develop new tiny house communities.
THCD currently works with local non-profit housing organizations that assist in finding qualifying residents. Those who qualify are permitted to reside in the tiny house units indefinitely.
"I've been on mission trips all over the world and I've figured that we had a bigger mission here in our own backyard to provide housing. Everyone deserves a safe place to call home," said Executive Board Chair Scott Jones. "We believe in building community within community," he later added.
Volunteers from the Feb. 16 workday event included several students from High Point University's Circle K organization. Students in attendance were: Chad Deroy, Evan White, Andrew Eliades, Maddy O'Connor, Emmie D'Amico and Ally Ortolani.
Circle K International (CKI) is the "premier collegiate and university community service, leadership development and friendship organization in the world." 
High Point University's Circle K organization reinforces these core principles by regularly partaking in community service events, much like the tiny house workday event on Feb. 16.
HPU's Circle K meets bi-weekly at 2 p.m. on Sundays. More information can be found on their Facebook page at HPU Circle K Planning or by contacting the faculty advisor Dr. David Hall at dhall@highpoint.edu.
Due to inclement weather, the Feb. 16 workday event took place at the THCD training center at 1310 W. Gate City Blvd. in Greensboro. Volunteers from High Point University's Circle K organization arrived promptly at 9 a.m. and worked until 1 p.m. approximately, members reported.
Maddy O'Connor, a current freshman at High Point University and member of the Circle K organization, shared her experience at the workday event on Feb. 16.
"I like producing a tangible result and putting in an effort that feels, and is visually productive, rather than donating my skills and expertise, which typically entails tutoring or doing academic work," O'Connor said. "We began an essential part of the process by caulking the framework of the tiny homes in order for insulation to be later installed," she added.
Through building these tiny communities, the THCD advocates for community engagement by "providing job training for people experiencing homelessness, which could lead to building homes for themselves and others," according to the organization.
According to a U.S. Department of Housing and Development (HUD) point-in-time count, an estimated 27,800 people in North Carolina experienced homelessness. The data reported 69 percent of people who experienced homelessness were adults with no dependent children.
One THCD staff member, Phillip Guerrero, shared his personal experience with homelessness and how he later became the construction leader of the organization.
"I was homeless for 2 years before I went to jail," Guerrero said when questioned on his duration of being homeless. "I didn't want to be on drugs no more. My friend took me in and said he was going to help me get clean, stay clean and do what I need to do," he added.
Since then, Guerrero works 6 days a week as the construction leader for THCD. In his spare time, he routinely goes to downtown Greensboro to help other organizations serve food to the homeless.
"It's great seeing what we're doing here to help people get off the street and to find safer housing," Guerrero stated on his experience with the THCD organization thus far.
At the moment, THCD is working on the completion of the Greensboro tiny house community located on 4120 Causey St.
The community will consist of five 288 square feet tiny homes and one 180 square foot tiny home. Each tiny house will have a bedroom, full bathroom, living area and a kitchen with full-size appliances.
With the Greensboro tiny house community nearing its completion, the organization is in the process of establishing 2 new communities in High Point.
According to Jones, the City of High Point has approved the organization's location on Hayes Street. Upon the city's approval, construction for the Hayes Street tiny house community has begun, making this the second tiny house community for the THCD.
It was later reported that land has been donated to the organization on Smith Street in High Point. However, no further details on the status of the project on Smith Street was entailed.
In the coming months, individuals can expect a surge of volunteer opportunities, especially for in High Point University students.
The THCD runs a weekly tiny house workday event every Saturday at 1310 W. Gate City Blvd. in Greensboro. To reserve a spot, visit the organization's website: www.tinyhousesgreensboro.com.
Image of Executive Board Chair Scott Jones representing the Tiny House Community  Development, Inc. at event where the organization received a donation for "tiny homes for veterans." Photo retrieved from the organization's Facebook page