HPU student revolutionizes the move-out experience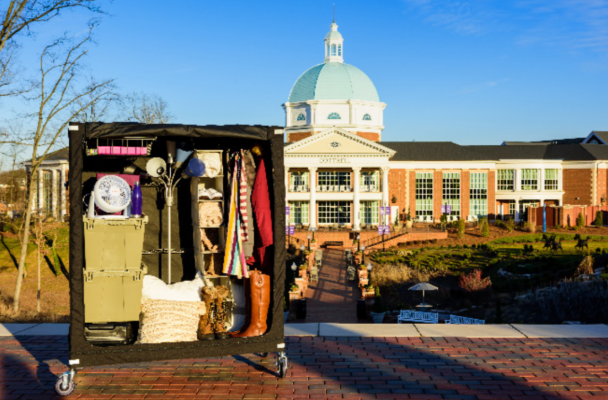 By Julie Burkett// Staff Writer
The Safe-Crate service for High Point University students will solve the issue of trying to cram your belongings into boxes and storage units at the end of the semester. The Safe-Crate can arrive at your door ready to be packed up and taken to the storage location,
and it can be delivered and picked up at your location at your desired times. Students won't have to worry about rushing to pack their things because the Safe-Crate team can come pick-up your Safe-Crate whenever is convenient for you. The Safe-Crate team provides personal service and enhanced security which allows for a stress-free experience for their clients. Your Safe-Crate is stored close to campus in a cool and dry environment so your belongings are accessible if needed and can be deliv- ered quickly upon your return to school. Ryan Gilbert, High Point University senior, created the revolutionary stor- age company. Safe-Crate is now taking reservations for their revolutionary service for 2019 move-out. Safe-Crate was founded in 2015 2015, when Gilbert was a freshman.
"Safe-Crate is exactly what I needed for my daughter at Vanderbilt last summer," said Jana M. Ryan, a family friend of Gilbert's that was the inspiration for the company. "We paid $600 to use a traditional company that stored my daughter's belongings in cardboard boxes. Once we returned to school for the fall semester, all her items were ruined with mold and mildew." Gilbert realized that the materials he needed to make a better service didn't exist. This didn't stop him. With the university's support, he gained the intellectual property rights to develop and manufacture the Safe-Crate device. HPU was a big help in supporting Gilbert's business idea. HPU was able to help Gilbert raise the initial $11,000 by winning the 2017 Business Plan Competition, along with other grants.
"Dr. Qubein and High Point University had a major impact on my growth as an in- dividual through teaching life skills that go far being the typical college education," said Gilbert when asked about HPU's involvement in his company.
Safe-Crate offers its lock, pick-up services and drop-off for $485. Clients and Students can pick up the Safe-Crate from a location on campus that comes with temporary storage for the summer in their climate controlled facility. Additionally, you can have your Safe-Crate dropped off at your dorm room or preferred location with four additional boxes and tape along with the lock and the crate for $625. Logistics professionals assist Gilbert with his growing business in order to deliver high-quality service. They work out the logistics of pick- up and moving the Safe-Crates into the controlled facility.
Along with his professional help members of the Greensboro Fire Department assist Gilbert to move the Safe-Crate into their locations. Overall, Gilbert's company is revo- lutionizing the student storage expe- rience with a portable crate system designed for students, by students and run by professionals. This mission statement ensures that your belongings will be handled with care in the summer months. Gilbert wants his clients to know that their business is meaningful to him and that
his team has the capabilities to deal with the responsibilities for managing this company and his fellow students' items.
HPU student, Ryan Gilbert, starts his own company to make move-out easier. Photo submitted