HPU women's basketball concludes historic 2018-19 season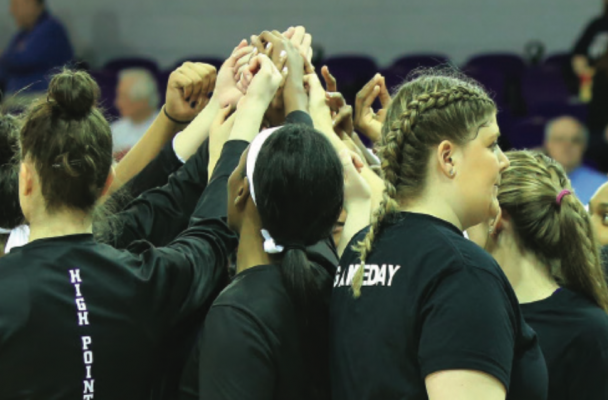 By Collin Giuliani// Sports Editor
The 2018-19 season for High Point University was one of the most successful seasons in program history. The Panthers finished with a 22-9 overall record, including 15 wins in conference play, hosted a portion of the Big South Tournament, and ended up playing postseason basketball in the Women's National Invitational Tournament. Here are some of the notable team and individual figures from HPU's successful season.
HPU Makes the WNIT
While HPU was unable to make it to the NCAA Tournament, the Panthers clinched the Big South's automatic bid in the 64-team WNIT, allowing the team to play postseason basketball for the fourth time in school history, and for the first time since the 2013-14 season. HPU fell short in the first round of the tournament to Ohio University, losing 71-64. Here's a look at HPU's history with postseason basketball since becoming a Division I school in the 1999-2000 season.
Season Tournament Round Opponent Result
2018-19 WNIT First Round Ohio Lost 71-64
2013-14 WNIT First Round Bowling Green Lost 72-62
2011-12 WNIT First Round NC State Lost 88-78
2006-07 WNIT First Round Charlotte Lost 72-45
HPU Dominates at Home
HPU was nearly unbeatable in games played at the Millis Center this season, finishing with a 14-2 record played in home games. HPU won every game held at home during the non-conference schedule, including wins against UNCG and Norfolk State, and won all but one game at home during the regular season portion of conference play, which was a double-overtime loss to Radford. The 14 home wins tied the school record for most home wins in a season in the Division I era (since the 1999-2000 season).
Rank Season Home Wins Rank Season Home Wins
T1 2005-06 14 4 2011-12 12
T1 2018-19 14 T5 2013-14 11
3 2014-15 13 T5 2009-10 11
Brown's 3-Point Domination
Camryn Brown hit 62 3-pointers for the Panthers this season, which was the fourth-best total in the Big South Conference behind Shamani Stafford of Presbyterian (71), Carley Plentovich of Gardner-Webb (72), and Jessica Wall of UNC Asheville (83). After hitting 59 3-pointers in the 2017-18 season, she continued her domination from 3-point range by shooting 34.6 percent from behind the arc this season. Brown has already established herself as one of the best 3-point shooters in school history and can cement her legacy further as a senior in the 2019-20 season.
Rank Player Years Played with HPU Career 3-Pointers
1 Kaylah Keys 2013-17 255
2 Jurica Hargraves 2007-11 229
3 Camryn Brown 2016-present 160
4 Kat Harris 2014-18 146
5 Lindsay Puckett 2011-15 144
Historic Career for Emma Bockrath
Emma Bockrath entered this season as one of the most accomplished players in HPU history and continued her run of form in the 2018-19 season with arguably the best season of her career. She averaged a career-high 16 points per game, alongside a career-high 7 rebounds per game and 3.4 assists per game. Bockrath finishes her HPU career with 1,616 points and 747 rebounds, becoming one of just eight players in the history of the Big South Conference to record at least 1,600 points and 700 rebounds. Here's the list of historic company in Big South history that Bockrath joined with her play over the past four seasons.
Player School Seasons Played Points Rebounds
Katie Feenstra Liberty 2001-05 1,845 1,033
Megan Frazee Liberty 2005-09 1,883 951
Elena Kisseleva Liberty 1996-00 2,154 876
Erica Williams Winthrop 2013-17 1,777 848
Tammy Brown Campbell 1987-91 1,893 808
Devon Brown Liberty 2009-13 2,001 803
Debbie Born Augusta 1987-91 1,866 764
Emma Bockrath HPU 2015-19 1,616 747
HPU's High Scoring Offense
HPU finished the 2018-19 season averaging 72.8 points per game, which led the Big South by a comfortable margin. For some perspective, only one other team was within five points per game of HPU, as Hampton finished the season with the second highest scoring offense at 69.1 points per game. Not only did HPU lead the conference in this category for the seventh time in school history and for the fourth time in the last six seasons, but the 72.8 points per game set a school record in the Division I era (1999-present) for scoring average.
Rank Season Points Per Game
1 2018-19 72.8
2 2013-14 72.5
3 2011-12 69.5
4 2014-15 69.2
5 2010-11 68.9
HPU Spreading the Ball Around
Thanks to players like Camryn Brown (145 assists) and Emma Bockrath (106 assists), HPU led the Big South in assists per game during the 2018-19 season, averaging 16.26 assists per game. For perspective on how high that number is, only one other school in the conference averaged at least 13 assists per game (Hampton averaged 13.58 assists per game). Not only did HPU finish inside the top 30 of the entire NCAA in this category, and not only did HPU lead the conference in this category for the fourth time in school history (they accomplished this during the 2001-02, 2010-11, and 2016-17 seasons as well), but they set a school record in the Division I era (1999-present) for most assists per game in a season.
Rank Season Assists Per Game
1 2018-19 16.26
2 2010-11 15.40
3 2001-02 14.50
4 2008-09 13.80
T5 2013-14 13.70
T5 2012-13 13.70 
The 2018-19 season for the HPU women's basketball team resulted in a second place finish in the Big South Conference, including 15 wins in conference play, a Division I record 14 home wins and an appearance in the WNIT for the fourth time ever. Photo by: highpointpanthers.com