Change your mood with music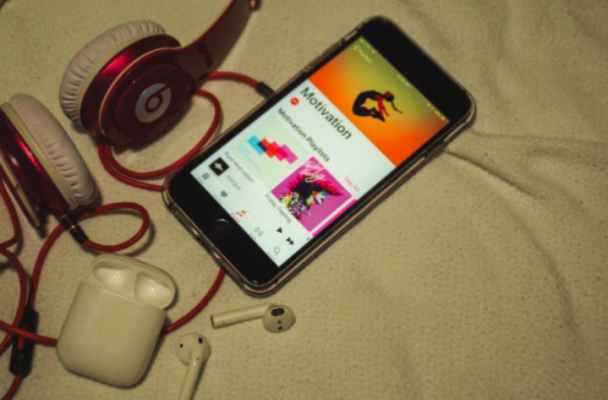 By Peter Gagnon// Photography and Online Editor
My father was in a rock band growing up. By day he managed a brokerage firm, but by night he headed out to play with his band. They covered a variety of popular songs from the late 90s to early 2000's. I was always inspired by his dark blue drum kit because of all the different types of music that could be created with it. Rock, jazz and classical are all types of music that can be created with just one instrument, but what about multiple instruments? This is what brought me to my love for music and all the different types of music we can all listen to. Music is a key aspect in life that sets the mood. So what kind of mood are you in when you're walking around campus or lying in bed at night trying to fall sleep? 
The applications like Spotify, Soundcloud and Apple Music all offer different playlists that can contribute to your mood. For example, Apple Music offers this special idea that they pick music for you based on past songs you've listened to. They will make playlists for you such as rock replay of recent hits or festival bangers for turned-up tunes with crazy drops. In the Apple Music application, you can go to playlists and pick songs based on activities or moods. Party, Chill, Decades, Fitness, Motivation and Romance are just some of the keywords used in this.
I have a few playlists, one for each mood. After a long day, I like to lay down in bed and put on some soothing music. I've always been a movie connoisseur, so I try to find some scores from movies that are calming and peaceful. A pre-recorded song of Jim Carrey on the "Truman show" with a beautiful piano score makes me fall asleep in the blink of an eye. This is the magic of music. 
When I'm heading into a test, I need some motivation. I need something to pump me up. That's when I head over to my rock playlist which is loaded with Green Day, Beastie Boys, Led Zeppelin and Van Halen. If you are wanting to feel inspired, listen to a Marvel movie soundtrack. This will really get your blood pumping and make you feel like a superhero wherever you go. I highly recommend the "Thor two" soundtrack. While it's not the best movie, it has an incredible soundtrack.
What better way to get through a hard three-mile walk than some non-stop head-banging tunes? The beat will be enough to keep your feet pounding down on that elliptical. The electronic dance scene has really taken over a lot of the music industry, even turning some of the typical pop music stars into overnight EDM sensations. Not only does the music inspire others around them, but it also brings people together. Thousands of individuals gather for different music festivals all of the world, including "Tomorrowland" in Europe and "EDC" in Orlando, "Lollapalooza" in Chicago. However, festivals aren't only for EDM. They include all different genres, like rock, country and alternative. 
I have realized with living off campus how incredible it is to cook my own food, especially with Food Lion just across the street from where I live. Cooking is a great way to reduce stress and create something that you and the people around you will love. That's when I throw on a dinner time playlist which is loaded with country music. You may be able to remember this from your childhood with your whole family listening to John Mayer out on the porch while eating your chicken caesar salad. Country music is incredible because it's fun and uplifting. This is the south. Why not embrace it?
Did you just pass a test? Did you just turn in your term paper? Feeling good? Put on some Maroon Five with "Moves Like Jagger" to strut your stuff. Spotify has a playlist called "walk like a bad… donkey." Throw this on when you leave your test, hold your head high and know that all of the hard work you did has paid off. Whatever your taste in music is, it says something about you. Embrace it, let it motivate you and put you in the mood that you deserve to be in.
Apple Music has specific playlists for Motivation, Parties, Chill, Romance and more all at the tap of your finger. Photo by Ann Shelley