Pro & Tell Conference talks photo and video industry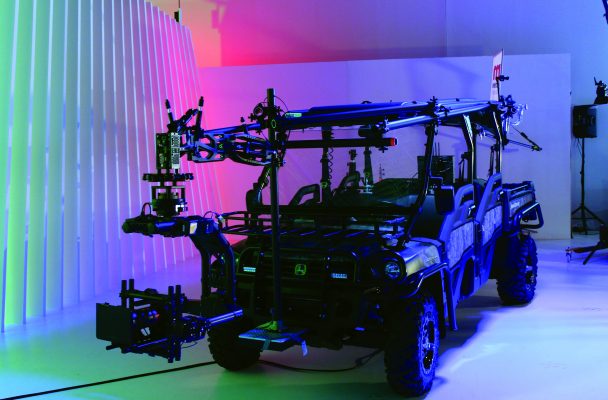 Staff Writer
Shuttle buses left campus on Jan. 20 for the Pro & Tell Conference held at White Orange Productions in Greensboro, North Carolina. It featured some of the latest up-and-coming equipment and merchandise associated with recreational and professional photography and filmmaking.
Major corporations such as Hasselblad, Canon, Nikon, Matthews, Mole-Richardson, Sony, SE Systems and many more attended the conference. High Point University provided transportation for students and professors who wanted to attend.
Attendees were presented with a raffle ticket and a map, as there was a labyrinth of different tables. There was catering and a full-fledged staff to guide patrons. HPU attendees were instructed to bring an SD card to capture moments from the event on various display cameras.
Featured pieces of equipment included camera-mounted vehicles and tall light stands with hundreds of settings and a full spectrum of color options. The Freefly Alta X drone drew attention because of its futuristic rotary wings.
Although the drone weighs in at about five pounds, it can carry a maximum payload of 35 pounds. Another gadget on display was the dolly that wrapped around a staged, model living room. A dolly is a track on which a camera can be slid to get smooth, fluent footage.
The technology presented at the conference highlighted the various aspects associated with larger productions including high-end drones, vehicles with attached camera and light mounts, track-operated dollies, photogenic and cinematic cameras, variable lenses, synthesizers and grip equipment.
Those unfamiliar with the amount of modern technology involved in contemporary television and film were able to gain insight as to what happens behind the scenes. Each station had something to offer. Canon, for instance, presented its most recent Canon 1DX Mark III and the soon-to-be-released Canon EOS R. Hasselblad showcased their latest photography technology, including the X1D II 50C, which produces high-resolution images, and the XCD 45p, which is labeled the lightest digital medium format autofocus lens. Nikon and Sony were among the various companies with displays at the conference.
Kenneth Emmerett, a sales representative for Matthews, delivered a grip presentation at the conference. A grip refers to a portion of the production team that builds the set and prepares the equipment used for movies, television programs, professional photography and more.
Grips refer to their technology with nicknames, some of which Emmerett said were "beefy baby, mini max and magic finger." Anyone interested in knowing more about this kind of equipment and their terminology can visit MSEgrip.com.
The Pro & Tell Conference provided HPU students and other attendees with insight on not just equipment, but future career options and the many different pieces of equipment that would be used in a high production professional film or photoshoots. It allowed students and professionals a chance to network, educate and learn.