Brown scores 44 points for the Panthers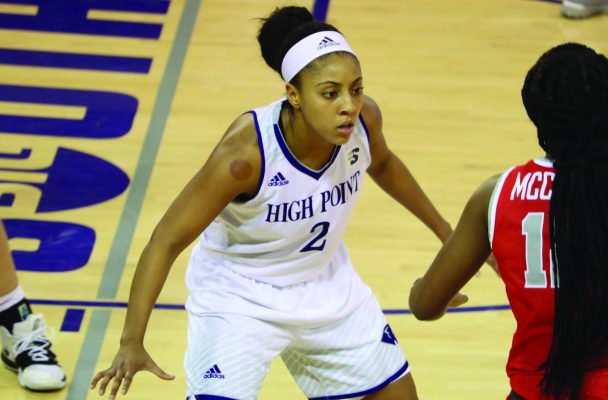 By Alex Bozek
Sports Editor
Camryn Brown's 44-point masterpiece broke many school and conference records as HPU's women's basketball team beat Winthrop 94 – 61 at the Millis Center. Brown, a senior from Copley, Ohio, was simply unstoppable from the offensive side of the ball. Right from the tip, she took control of the game.
Going into the halftime break, Brown scored only 18 points while hitting four three-pointers. But she turned it up to a new level in the second half, scoring 26 points in just 13 minutes. She put the Panthers on her back and brought them to a 33-point win.
There were six total team records broken, four by Brown and two by the Panthers' team as a whole. Brown set the new bar for most points scored, three-pointers made, field goals made and most three-pointers attempted in a single game by a player.
Brown's 44 points, 10 three-pointers, 16 field goals made and 16 three-pointers attempted took her to the record books. Her 44 points cemented her as the most points scored by a single player in a single game of the Big South Conference women's basketball history.
HPU did not disappoint when it came to a full team effort. Their 20 three-pointers made set a new school record. They scored a total of 207 shots from deep this season, which is also a new school record.
The Panthers have had a roller coaster of a season up to this point. Their first game was a road trip to Durham to face the Blue Devils of Duke University, where they lost 57 – 93. Their first win came at the Millis Center in early November against East Tennessee State. After their big win, they lost seven of their next eight games.
Being at a record of two wins and nine losses, it is a tough spot to come out of. But they have fought back since then, winning eight out of their last ten.
The Winthrop Eagles were tied with HPU in the Big South Conference and standings coming into the game with a conference record of seven wins and four loses. Earlier in the season, the ladies lost 69 – 63 in Rock Hill.
With this win, the Panthers upgrade to a record of eight wins and four losses in conference with an overall record of 10 wins and 11 losses. This currently puts them in third position in the Big South standings with eight games remaining in the season.
With the end of the season being just under two months away, the Panthers are surely looking to get back to the Big South Conference championship and NCAA Tournament like they did last year.