Valentine's Day Q&A: Drs. Cindy and Patrick Vigueira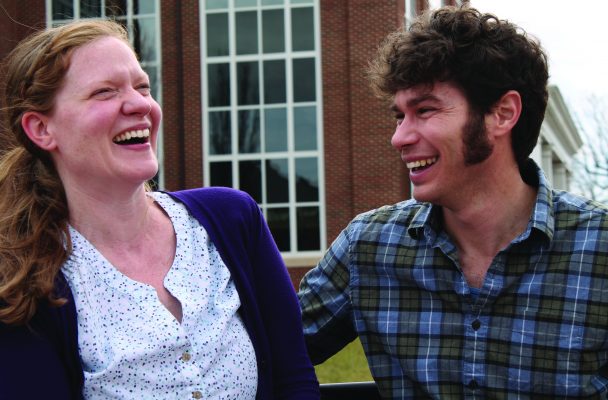 By Lisbeth Ramirez
Staff Writer
Valentine's Day at High Point University is a time for fundraisers and Dr. Nido Qubein handing out Hershey bars. It is also a day for married HPU faculty and staff to celebrate alongside students. Campus Chronicle Staff Writer Lisbeth Ramirez spoke with one couple, Drs. Patrick & Cindy Vigueira, assistant professors in HPU's biology department, about their love story, working together and their Valentine's Day plans.
Q: When did you meet and how?
CV: We met at Clemson University in 2007. We were graduate students that shared a lab space, but we officially met playing darts in a bar. Patrick asked me out after we met. There may have been some liquid courage involved.
PV: I am terrible at darts, so I had to impress Cindy with my science skills. It took some extra courage because Cindy made fun of me the first time that I tried to chat with her.
Q: How long have you been married?
CV: We got married on July 3, 2011, on the beautiful shore of Lake Hartwell. Patrick then defended his dissertation on July 5, and I defended mine on July 6. We moved to St. Louis for our postdoctoral positions the following week.
PV: That was a crazy couple of weeks. On the bright side, I will never forget it.
Q: How did you know he/she was "the one"?
CV: I do not know if there was an exact moment. We hit it off right away. We have similar interests and the same goofy sense of humor. I knew it was for the long term when we adopted a cat together.
PV: Cindy is the whole package. She was a great friend. We always had a fun time together. Who would not want to sign up for a lifetime of that?
Q: What is it like teaching the same subject, and do you ever steal ideas from each other?
CV: I love working with Patrick. We always steal ideas from each other, and we are both better at our jobs, and in life, because we uplift each other. I think we complement each other very nicely.
PV: Some of my favorite teaching moments are when Cindy and I are co-teaching a course. She is great in the classroom, and I love to be part of that magic.
Q: How has working together helped your relationship?
CV: I think we only benefit from working together. We understand the good and bad of our day-to-day lives. We also get to spend more time together than we would if we had different jobs. Coming to work is more enjoyable because I get to be there with my spouse.
PV: We are best when we are working together on a project. We can occasionally spend too much time talking about science or a work topic either at work, on the ride home, during dinner, while brushing teeth, etc.
Q: What brought you to HPU?
CV: We like the area and wanted to be a part of a growing department. We also wanted to work together, and HPU happened to be hiring two positions that we both fit into nicely. The main thing that sold us on coming here was the great faculty in the Biology Department. We could tell after our interviews that not only would we have colleagues, but we would also have friends. We started working here in 2014.
Q: What's your favorite memory, personal or work-related?
CV: We love to travel, so most of my favorite memories are of the funny situations we find ourselves in while visiting other countries. For example, it took us a long time to figure out that we had to ask for the check at restaurants in Mexico. We eavesdropped on other tables to hear how they asked for their checks. Neither of us speaks Spanish, so we probably asked for all sorts of weird things before we figured it out.
PV: We always have a great time when we travel to conferences together. We attended the Plant and Animal Genome Conference in San Diego, California, last year.
Q: What advice would you give students about marriage, working together and teaching?
CV: Being open and honest is the best recipe for any relationship, be it between spouses, colleagues or student and teacher. It is also helpful to throw in some humor. A good laugh can help you through challenging situations.
PV: It is always important to keep the importance of our relationships in order. Spouses come before colleagues. That does not always mean that we agree at work, but we never let our differences of opinion at work impact our relationship at home.
Q: What are your Valentine's Day plans?
CV: We will probably stay home and have a nice dinner with some background screaming. Did I mention we have two young kids?
Q: How old are your children?
CV: Cecelia is two years old, and Calvin is eight months old. They are more fun and exhausting than we could have imagined.
Q: What is your favorite Valentine's Day memory?
CV: Our first Valentine's Day after we started dating is my favorite. Patrick said that he would make dinner reservations. Then, he called that day to ask if I would cook dinner because he could not get reservations anywhere. Of course, I was happy to cook. He also gave me a thoughtful, homemade present as a surprise on my desk in my research lab.
PV: That is how I found out that she was a good cook. I think it was a smart move on my end. I am a good cook too, so I will make sure to prepare a nice meal for her this year.