New school year, new dining changes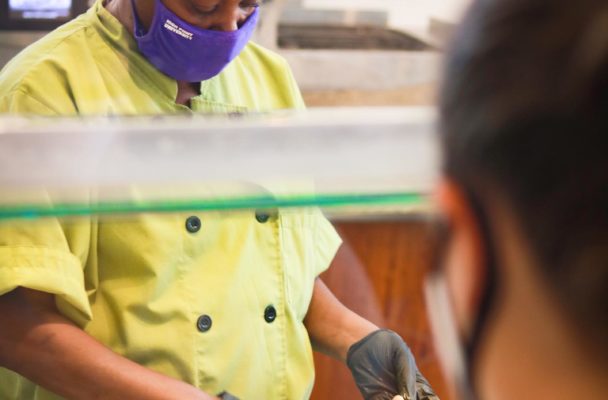 By Faith Foushee
Digital Media Editor
Every semester, High Point Dining makes adjustments, improvements and new additions to the dining process and options. This fall semester, the changes have occurred on a grander scale due to the addition of new safety measures. There are many changes to encourage physical distancing and sanitizing, as well as additions and modifications to menus. 
Mobile ordering and reservations are major differences to the dining process. Students can download the Mobile Order Transact app and log on to their High Point University accounts to place orders.
Last year, the app allowed students to place mobile orders for dining options, including The Point, The Bakery, The Village Grille and Silver Line Diner. Now, students have the ability to mobile order at any dining location on campus, including the Markets at Wanek and Yadkin.
Tyler Thomas, a junior, spoke on his experience with mobile ordering at Starbucks. 
"I am thrilled to be able to mobile order Starbucks from my room, walk to get it and have it waiting for me when I arrive," Thomas said. "The mobile ordering process is great, especially when I am in a rush but need a caffeine boost."
Along with ordering food, students are encouraged to make reservations to the Cafe or Farmers Market before arriving, especially during peak times. Making reservations ensures that the spaces are limited to a safe number of people. To make a reservation, open the mobile ordering app, select the dining location of choice, select the type of dining reservation and choose a time.
Once confirmed, click on the receipt to bring up the QR code to scan while walking in. The QR code is another safety measure to reduce touch. When making a reservation at the Cafe or Farmers Market, there is also an option to customize the "make-your-own" options, like omelets in the Cafe or stir fry at Farmers Market. 
Brittany Reich, the Guest Experience Manager for Harvest Table, shared feedback about the mobile ordering and reservation systems. "Students are excited that we have expanded mobile ordering to all of our restaurants," Reich said.
"Some are confused about reservations at Cafe and Farmers Market. In response to that feedback, we have released tutorial videos on our social media channels and our mobile ordering page to help you navigate this new system. Please note that while this new system is in place to help you navigate the peak dining times, you may also dine in the locations without a reservation."
In previous years, the standard meal plan included 14 meals, seven being magic meals. This plan was coupled with $150 dining dollars. This year, all meals are magic meals, so students and faculty are allowed to eat wherever they want all the time. 
Reich shared the reasoning behind the meal plan change, saying, "We decided to change to all magic meals this semester to give students more flexibility and options with dining on campus."
Not only have there been changes to the ordering process, but there have also been changes to menus. In the Cafe, the omelet bar and pasta bar are available on two sides to decrease the amount of waiting time in lines.
At The Farmers Market, there is now a street-fusion section that will serve the taco bar daily at lunch, one of the students' favorites. There is also an option to create a yogurt bowl with Chobani yogurt and toppings, like fruit and granola. At the mixology station in Farmers Market, students can choose a lemonade creation or nitro cold brew. 
The Village Grille now has a selection of Caribbean-inspired options, including crabless crab cake, Peruvian chicken, mojo shrimp, empanadas and more. For those who are not interested in Caribbean food, there are still options like pizza or hamburgers.
The Bakery now has many creations using bagels from a local shop called High Point Bagels, including open-faced sandwiches and pizza bagels. They also have new sandwich and salad options, like The Gatsby or The Toasted Granny. 
The Butterfly Cafe is HPU's newest dining location that opened its doors to all students and faculty on Monday, Aug. 17. The Butterfly Cafe offers parfaits, baked goods, sandwiches, soups, the Mediterranean experience and a wide variety of coffees and smoothies. The Mediterranean experience allows students to create Mediterranean-inspired dishes of their own.
Hannah Martin, a junior who visited the Butterfly Cafe during the opening week, described her experience.
"The Butterfly Cafe is a unique dining experience that offers healthier options with beautiful scenery," said Martin. "The Cafe is so bright and colorful; it makes me happy just to walk in. I love the variety of coffee options and look forward to trying more flavors."
The dining team is enthusiastic about all of these changes and additions. 
"[We're excited about] The Farmers Market having a taco bar every day, the new mixology drink station with made-to-order drinks, the avocado toast bar and the ramen bar in the evenings," said Reich. "Also, all of our bagels on campus are provided by our local partner, High Point Bagels. They are delivered fresh, daily."
Due to the current health crisis, many health and safety measures have been placed at all dining locations to try and reduce the spread of COVID-19. At all dining locations, the food is served in compostable to-go boxes. Plexiglass has been set up at all of the counters and registers.
The mobile ordering system allows for a touchless swipe-in, and if a reservation is not made, students swipe their passport. In addition to masks, the dining associates serving food wear gloves and switch gloves often. All drink options are pre-bottled or canned and are handed to students by a dining associate at the drink station. 
Sanitation is something that the dining team says they take very seriously. 
"We have clean teams in place at each restaurant to make sure tables and high-touch surface areas are being cleaned frequently," Reich said. "We do temperature checks and COVID pre-screenings for all our associates before starting their shift." 
HPU offers a variety of dining options and locations for students and faculty to enjoy and feel safe while visiting. The dining team is committed to providing a great dining experience. Any questions or recommendations can be sent to hospitality@highpoint.edu.