No more 'breaking a leg' on Broadway until 2021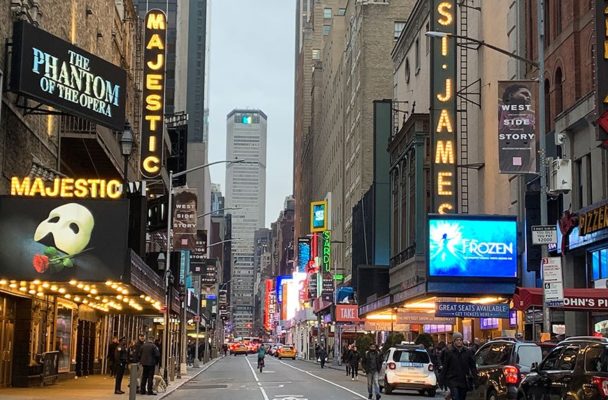 By Emma Ralls
A&E Editor
While Broadway was only supposed to go dark for a month, it now seems the Great White Way won't be opening until, at the earliest, January. The pandemic hit the theater world especially hard, causing some long-running shows to close and some anticipated productions to be postponed for months.
New York Governor Andrew Cuomo halted all performances from 5 p.m. on March 12 until the week of April 13. It was also announced that Lincoln Center, Carnegie Hall and the Metropolitan Museum of Art would effectively be closing.
Cuomo stated the restrictions at a press conference. 
"You don't want to shut down society because that's massively disruptive to the economy, to life, etc., but your main concern is the public health crisis, and it's balancing the two," said Cuomo. 
These announcements coincided with Cuomo's earlier ban on gatherings of 500 people or more, causing Broadway to "go dark" for the 13th time since 1919.
Over the course of the pandemic, some shows have  managed and hoped to remain in operation, while others haven't been as lucky. Disney's stage adaptation of "Frozen" was the first production to close, due to the pandemic, after 825 performances and 26 previews. 
In a letter to his staff regarding the closure of the production, president of Disney Theatrical Productions Thomas Schumacher said, "This difficult decision was made for several reasons but primarily because we believe that three Disney productions will be one too many titles to run successfully in Broadway's new landscape."
Disney has two other productions currently on Broadway, "Aladdin" and "The Lion King." Both anticipate reopening once performances resume. "Frozen" will not be as lucky, as it was considered the weakest of the three, according to a CNBC article. 
"Beetlejuice" also met its end since Broadway has been dark. While the show gained traffic and spiked up in ticket sales towards the end of its run, the Tony-nominated show was set to be evicted from the Winter Garden Theatre on June 6. There is still hope that the production could move to another theater, but there won't be any word on that decision until a reopening date for Broadway is established.
Shows that were set to open amid the pandemic have been forced to push back their starting dates. One of the most anticipated productions was the Broadway revival of "The Music Man," starring Hugh Jackman and Sutton Foster. It was set to start previews on Sept. 9 and on opening night, Oct. 15.
With current events, the performances are now projected to begin on April 7, 2021, at Broadway's Winter Garden Theatre, and an opening night is set for May 20. "Flying Over Sunset," "Birthday Candles," "Caroline, or Change," "Plaza Suite" and the new Michael Jackson musical, "MJ," have also been postponed. Other shows that were gaining traction, like "Hangmen," with Dan Stevens from "Downton Abbey" and Mark Addy from "Game of Thrones," were halted in their tracks. "Hangmen" had 14 preview performances before Broadway went dark and announced on March 20 that it would not reopen.
Although the in-person theater has closed, one production, in particular, has had major success during the quarantine. On July 3, a recording of Lin-Manuel Miranda's smash hit, "Hamilton" came to the Disney Plus platform. Variety.com reports that the app saw a spike of 74% in downloads that weekend. From the comfort of their own homes, Disney Plus subscribers can watch the production with the original cast. According to Forbes.com, when Disney purchased the rights to "Hamilton," costing $75 million, it became the largest film acquisition deal ever.
While theaters were originally part of phase four in New York City's reopening plans that went into effect on July 20, they were not one of the businesses that opened. Much like other indoor activities, ranging from restaurants to movie theaters, the dates for reopening are unique to each establishment. Theaters are currently slated to stay closed through Jan. 3, 2021. Theatergoers wait in anticipation for the lights of Broadway to shine once more and hope there are no more future delays.