A vibrant new addition appears on campus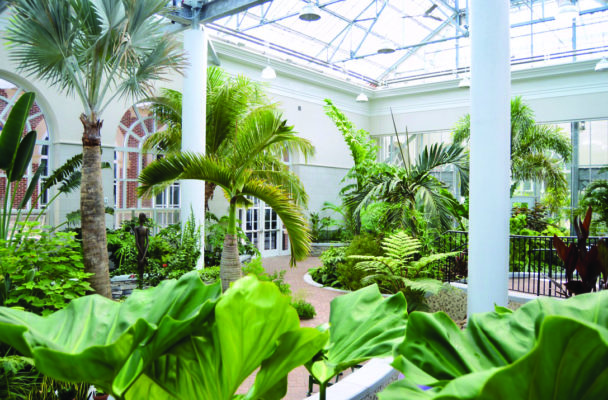 Since Dr. Nido Qubein became president of High Point University in 2005, the college has continually expanded, with new facilities being constructed regularly. There have been many past projects, such as the Wanek School of Natural Sciences, but the most recent addition is the Caine Conservatory. 
After a generous donation from Don and Teresa Caine, the founders of Camco Manufacturing, HPU began construction on the Caine Conservatory. The conservatory was designed to accommodate various scientific fields, including biology, physics and chemistry. 
The structure houses many features, including a walled courtyard garden, a lecture room, the Butterfly Cafe and a set of other gardens.
The main draw of the conservatory is the Qubein Arboretum and Gardens. The designers gathered various plants from around the world to be studied in one place. There are tropical and subtropical gardens maintained by volunteers who ensure that the diverse array of flowers and other flora remain healthy and vibrant.
Dr. Jason Lattier, director of the conservatory, explained that a great deal of thought was put into what species of plants were selected to be included within the gardens to ensure that there were numerous subjects hailing from different regions.  
"The plants in the conservatory come from tropical and subtropical regions from around the world," Lattier said. "We have tried to strike a balance of plants from centers of diversity, such as the Neotropics, Sub-Saharan Africa, Southeast Asia and Northern Australia."
Merely pulling from multiple locations was not enough to create a special collection, so the management of the conservatory curated the selection to secure variety. They sought to gather uncommon variants of plants as well.
"Because this is a teaching collection through the Wanek School of Natural Sciences, plant diversity was a key feature in the design, and we tried to represent as many different plant families, genera and species as possible," Lattier said. "Within that framework, we selected plants that were cultivated for their ornamental characteristics. For instance, instead of regular green bananas, we selected a cultivar with streaks of bright red variegation. This way, we can have a meaningful teaching collection that is ornamental, instead of just repetitive rows of flowering plants."  
The purpose of the garden is not just to be an alluring sight but to serve a practical use as a place for students to study the growth of exotic plants. Scientific fields, such as biology, rely on information obtained from the study of plants, so having access to samples on HPU's campus is a valuable resource to students of multiple majors for their research projects. Areas of expertise, such as agriculture and medicine, are especially aided by the availability of these plants, which is why Lattier believes that this is an invaluable tool for the education of his students.
"Plants provide the food we eat, clothes on our backs, medicines when we are sick and a host of other important things necessary for life," Lattier said. "It is my belief that people fall in love with the natural world through their local gardens, and this love will lead people to see the importance of conserving our natural world."
The conservatory is still expanding its collection, with other gardens in the Triad continuing to send plant specimens as donations to provide a more comprehensive array of subjects to study. The management of the facility has also expressed that it is eager to work with volunteers who are willing to spend their time maintaining the gardens or providing samples and supplies to them. 
Lattier encourages anyone interested in learning more about the conservatory and aiding in its development to contact him at jlattier@highpoint.edu.