Help spread awareness during suicide prevention month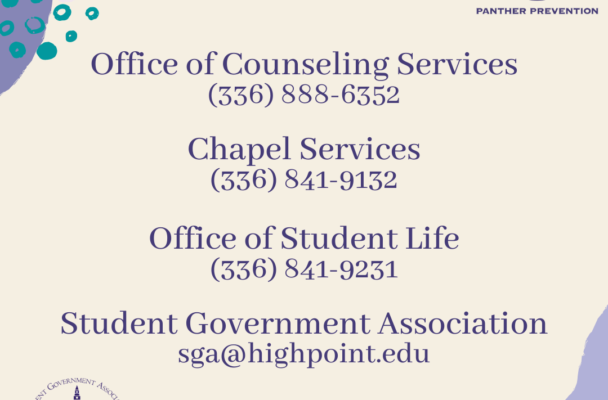 By Ally Ortolani
Opinion Editor
Nearly 800,000 people fall victim to suicide each year, according to the World Health Organization. That's one person every 40 seconds.
Unfortunately, suicide has been an increasingly worse issue; in fact, suicide is the second leading cause of death in the world for those aged 15-24 years. As someone who has dealt with related mental health issues, I find it extremely important to speak up and spread awareness on suicide prevention.
This month is National Suicide Prevention Month, and there are a myriad ways you can get involved to spread awareness.
Use your voice with social media
Social media is a helpful tool to deliver significant and meaningful messages. And with COVID-19, it's difficult to have a public space to voice concerns. 
In response to recent social injustices across the nation, individuals have posted graphics on the Black Lives Matter movement, along with other forms of public activism. Regarding National Suicide Prevention Month, individuals can also show support through posting and sharing graphics with necessary information. 
Many graphics include critical phone numbers that can be help someone who is experiencing suicidal thoughts; for instance, the National Suicide Prevention Line is 1-800-273-TALK. Posting a graphic containing info could unknowingly save a life.
Research to know the warning signs 
Suicide does not have one singular cause. Certain factors, such as substance abuse or untreated depression, can lead to higher risks of suicide. 
Individuals should also look for warning signs, including talking about wanting to die or killing oneself, feeling hopeless or having no sense of purpose, feeling like a burden to others, displaying extreme mood swings and acting recklessly.
Recognizing these signs is crucial, especially if a loved one is afflicted with suicidal thoughts. If you or someone you know is in crisis, call the Lifeline at 1-800-273-8255 or text SIGNS to 741741 for 24/7, anonymous, free crisis counseling.
Talk with family and friends
It's important to have open conversations with your family and friends about mental health issues. It fosters a community where mental illness is normalized; we must break the stigma. 
There is something damaging about concealing emotions and feelings, primarily because it prevents people from getting the appropriate treatment in time. 
I find it to be my responsibility to check-in with how my friends are doing. Many times, we have heard, "If only they had been treated earlier; they could still be here." We need to have an open dialogue about mental illnesses.
Utilize campus resources
High Point University has numerous resources that can be valuable for students who are dealing with a mental illness. 
More specifically, the Office of Counseling Services provides multiple organizations and resources for students in need. I've been there, and going to therapy has been extremely beneficial for my mental health. To view their page, visit www.highpoint.edu/counseling.
HPU is committed to understanding students' mental health needs.
"The Office of Counseling Services advances the educational mission of HPU by providing quality psychological interventions, outreach, consultation and referral services to address the mental, emotional, social and academic needs of HPU students," says the office's webpage.
Counseling services are available to currently-enrolled students and are covered by student fees. Any costs associated with medication that may be prescribed by the psychiatric provider are the responsibility of the student.
Donate 
If you're financially able, donating to a reputable organization can be a tremendous help toward further research. 
The American Foundation for Suicide Prevention is one of the many organizations you can donate to. All proceeds fund their mission to save lives and give hope to those affected by suicide. 
"Each dollar brings us closer to a world without suicide," said AFSP. 
Similarly, there are nonprofit organizations in the Triad area that could use more help. 
Caring Services Inc. is located in High Point, and their mission is to "provide licensed mental health, substance abuse services and supervised living facilities for those seeking recovery from substance-use disorders." 
Any donation helps. If you're in the position to financially help, consider donating to the cause.