Esports adapts to pandemic challenges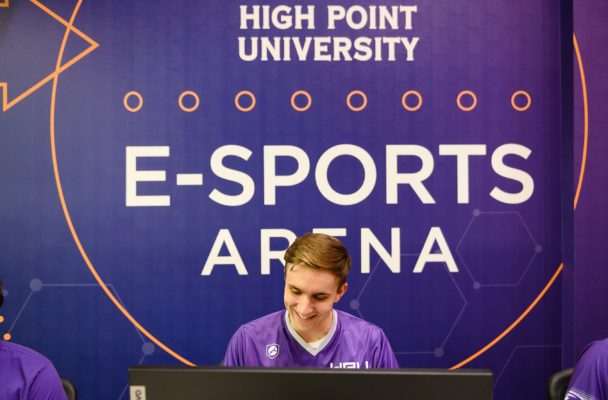 By Noah Stern
Sports Editor
Esports is a growing organization that has attracted a variety of students. Many college campuses have started to offer esports as a club or varsity sport, including High Point University. The university started with an "Overwatch" team two years ago and has worked up to offering almost 15 different games now. HPU built a state-of-the-art arena last year for the club team, and many students have joined in the past few years. It's a sport that will continue to expand in the coming years. 
Esports at HPU is a club sport with about 60-75 members on the roster. Each member is able to create their own team, based on the particular game they play and the level at which they play. As competitive as esports can be, that's not what the club is all about. 
"The point of joining esports is to improve your gaming skills so that you can eventually reach the top levels and compete in tournaments," said Andrew Ellner, president of esports at HPU. 
This club sport is just like any other, with practices and competitions held regularly. Practices are held about two times a week for about three hours at a time. However, many of the players often practice on their own time in the arena to improve their gaming skills. You can often see many people there at once, practicing and competing in their respective games. There are many different games that members play, such as "Rocket League," "Fortnite," "Overwatch," "Call of Duty" and even newer games, like "Valorant." The team is often competing against other universities that also have esports teams, along with some tournaments. Members also compete against each other for practice and fun. However, with the impacts of COVID-19, the team has had to manage things differently this year. 
The first and most obvious difference is that you can almost always find someone in the arena practicing or competing during normal times. Due to COVID-19, the team is only allowed to practice during designated practice hours, and only 12 computers can be used, instead of all 24 that are in the arena. 
"It's really rough," said Ellner. "We normally can go into the arena and play whenever we want, but now with so many restrictions, it's difficult for us to practice and compete on a regular basis." 
Players have had to resort to playing from their dorms, instead of in the arena, but that's not an option for everyone. Some members don't have the right gear or equipment to compete at a high level from home, making the pandemic's effects difficult to handle for many esports players. With practice times staggered and only 12 computers available, it's extremely demanding to have 75 people get regular practice and competition time. However tough the situation is and may continue to be, Ellner has high hopes for the club's future. 
"Even though we have lots of limitations on playing, we still encourage people to continue to join esports," said Ellner.
Although this year is not ideal for many things, esports is something that can continue to thrive and succeed. No matter what happens, esports will stay open and always welcome new members. Even if a player's video game skills aren't top tier, that's not entirely what the club is about. 
"We're all about learning and growing your skills," said Ellner. "We encourage people to sign up, even if they don't know how to play these games." 
Ellner wants young players to learn how to play competitively at the collegiate level, so they can eventually become skilled enough to compete in tournaments. 
Anyone interested in learning more about the esports team at HPU can visit highpointclubsports.com/sports/club_esports.