Student launches Spotify podcast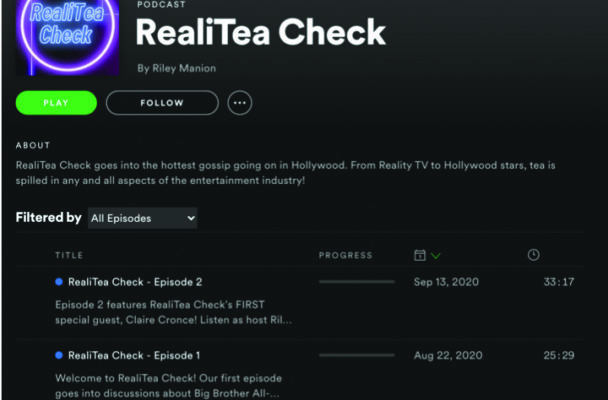 By Elise Coby
Organizations Editor
With the rising popularity of various media, HPU has welcomed several new information outlets, including High Point University sophomore Riley Manion's self-created podcast, "RealiTea Check."
"As an ambitious broadcast journalism major, I am constantly looking to showcase my abilities and enhance my skills through internships or jobs," said Manion. "I focus on creating highly intriguing and valuable content that develops a message and leaves an impact. My creativity and communication skills have benefited me in projects and broadcast productions, and I look to implement these skills to obtain further experience in the broadcasting field."
Manion created his own podcast to mainly focus on pop culture. 
"I am relatively new with podcasting," said Manion. "I've always loved listening to podcasts, and I've always loved talking about the entertainment industry. One day, I decided to put two and two together, and I created "RealiTea Check." I talk about anything and everything pop culture, reality TV, etc. I'm learning more and more every day, and I'm getting better and better, but my experience has been amazing so far. I've gotten such positive feedback, and it means a lot."
Manion stays updated on other podcasts about the entertainment industry to help him navigate material for "RealiTea Check."  
"I upload a new episode every other Sunday," said Manion. "Depending on what's going on in the entertainment industry, I'm constantly trying to stay up to date to not only keep people updated on what's happening but also to have a bunch of exciting things to talk about."  
When asked about what podcasts and other media bring to HPU, Manion stated that podcasts are exceptional opportunities for people to gain experience within various majors, especially communications and journalism. 
"I think for people at HPU, especially journalism majors, like myself, podcasts are so fun to do, and it's an amazing thing to have under your belt when making a resume, applying for a job, etc.," said Manion.
"I think more and more people will start to realize how beneficial they can be and start to take advantage of the amazing resources we have. Many professors suggest starting a podcast if you're a communications major."
Many people enjoy podcasting for various reasons. For Manion, it's being able to openly talk about anything. 
"My favorite part about podcasting is being able to talk about the things that I love," said Manion. "The benefits of a resume builder come with it, but when I'm recording, all my stresses go away. I can just talk and live in the moment, without having to worry about anything else. It is such a fun experience, and I'm really looking forward to growing my brand every week." 
Manion also volunteered advice for students looking to become involved in podcasting and starting something new. 
"If you're looking to start a podcast, my advice is to just do it," said Manion. "Don't hesitate. Don't wait. Just go for it. I have always been so hesitant to start something that could benefit me, but now that I have my own podcast on Spotify, I do not regret anything. If there is something that you love to talk about, whether it be entertainment, politics or sports, you can make a podcast about anything. The good thing for students at HPU is the amazing resources we have available. We have multiple recording studios, tons of recording equipment to check out, and plenty of people who will support you. Only good things will come out of putting yourself out there and starting a podcast, so just go out, and do it." 
Manion is a prime example of how students at HPU can utilize their skills, create media through experiential projects and ultimately kickstart future opportunities. 
Anyone interested in listening and subscribing to Manion's podcast is encouraged to search "RealiTea Check" on Spotify.