The most important lesson of 2020: Choose joy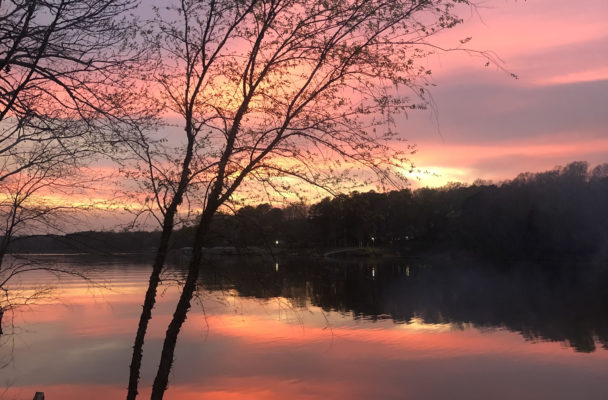 By Faith Foushee
Digital Media Editor
It has been an unprecedented year. No plans are concrete. While 2020 has experienced many devastations, it has provided me the opportunity to learn more about myself. 
I wouldn't necessarily say that 2020 has really changed me, but it gave me a newfound appreciation for how I was raised. My parents have always taught me to be appreciative of what I have, rather than focusing on everything I don't. 
When restaurants closed, we weren't bothered. Instead, we enjoyed cooking at home. When my mom got bored of having spaghetti, chicken or chili beans each night, I decided to cook dinner periodically. 
I made one of my favorite meals that I missed from High Point University, a taco salad bowl from The Farmers Market. I grilled chicken, made cilantro lime rice and combined corn, black beans and salsa. Then, I topped it all with cheese. This meal became a weekly dinner staple throughout the rest of the quarantine. 
When gyms closed, we had to get creative. Some afternoons and evenings, my family would jump on the trampoline, try out new tricks and do backflips. Other days, I would plan a workout for us. I found a new appreciation for the front porch on rainy days because it gave me a way to be outside. 
When we couldn't see our friends, we found alternate ways to stay connected. My mom used the Houseparty app to chat and keep up with her friends. I used FaceTime to stay in contact with my friends. Occasionally, we would go on socially distanced walks as another way to stay active. 
My birthday in April was during the peak period of the pandemic. My family and friends still put in the effort to make it special. My parents have certain traditions that were luckily able to happen at home. 
For instance, my parents put a candle in my breakfast, followed by them singing "Happy Birthday" to me. Later, my best friend came over, and we had a socially distanced lunch in the driveway — and she brought my favorite sushi. For dinner, my parents said we could get takeout from wherever I wanted. But, what I really had been craving was a McDouble and french fries from McDonald's. 
Both of my grandmothers also came over. As a family, we sat in lawn chairs in the driveway and ate dinner together. This birthday was one like no other, and it is one I will always cherish. 
Luckily, when we needed to get away from the world, we were able to escape to the lake. My family has a little slice of paradise at Kerr Lake — located between the North Carolina and Virginia border — where we spend most weekends of the summer. 
There is no phone service or Wi-Fi, so the getaway truly allows us to enjoy each other's company and log off for a couple of days. Everything felt normal because the lake was just like it always had been: the sunsets were beautiful, the fish bit and my dad was a grillmaster.
I'd always loved going to the lake and found a new level of appreciation during this time.
Lately, my mom's phrase has been "choose joy." This means that while everything in life may not be going your way or be how you want it, joy is always a choice. Throughout 2020, our household has focused on finding joy in every scenario and challenge. It was a challenge not seeing family, but seeing them later in the year made it much more special and exciting. 
This year, I have learned that I live a simple life and prefer the little things. Going to the grocery store was the most exciting outing I had. But most importantly, I will never forget the day my grandmother let me give her a hug again.
All of the things we're not able to do now will make being able to do them in the future more exciting. The unknown is now less scary because we currently live in it. We don't know what is coming next or this year's long-term impact.
Rather than worrying about what might be, choose joy for what you have right now and the things you can do. 
My family has realized this mindset may be unusual, but we have each other, and we have joy. That is all we need. This doesn't mean there aren't things I want, but I understand that I don't have to have them right now. 
For example, as soon as it's safe, I want to travel everywhere. My plans to study abroad were interrupted, but I am determined to one day spend at least a month of my life country-hopping in Europe. This year has allowed me to have more time to virtually explore cities that I want to travel to in the future, ones that I may have never heard of or knew about. 
Simplicity truly is underrated. Let today be the day that you start choosing joy.