Resident assistants work to maintain excitement of college life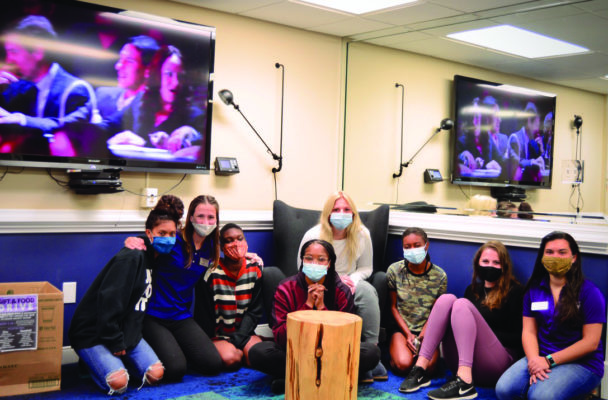 By Alyssa Pittari
Staff Writer
Many changes were made this semester due to COVID-19 that impacted life on campus, especially in the residence halls. But resident assistants, commonly known as RAs, worked to ensure that student life on campus remained enjoyable. Although the semester had some obstacles, it served as a learning experience for many RAs. RAs developed new ways to keep students socially connected to each other.
Starting in October, RAs hosted nightly activities for students living in residence halls. These included movie nights, arts and crafts and fall-themed events such as pumpkin painting. Student Life aimed for these activities to bring residents together and form a stronger community bond. These activities were held in both freshman and upperclassman dorms.
"These nightly events were designed to help students meet more people and make new friends in a safe way," said Kendall McClure, an RA for the McEwen, North, Wesley and Yadkin Residence Halls, also known as the Women's Complex.
In the Women's Complex, activities included friendship bracelet making, board games, coloring and canvas painting. However, McClure said she wishes RAs had more time to organize these activities.
"I think that over winter break the RAs on campus will discuss how to improve the nightly programs and make them more enjoyable for residents," McClure said. 
McClure believes the activities will continue in the spring semester, and that this will give RAs more time to plan future activities.
"Next semester, the RAs plan to make these activities more widely known among the residents," said RA Mikhala Frankunas. "I also think that more residents would come if the programs involved snacks, since many came when we served hot chocolate."
RAs had to adjust to many other changes this semester. One of these changes was virtual community meetings. In previous years, RAs hosted monthly meetings with the residents on their floor to discuss various topics about residence life. These meetings used to give residents the chance to meet each other and bond as a community. Now, RAs have noticed less of a bond between the residents as a floor and attributed this to the meetings being virtual rather than in-person. 
"Even though we did not have in-person community meetings, I think that the residents still made friends," said McClure. "The bond as a floor may not be as strong as it was in previous years, but I think that the residents are still interacting with each other safely."
RAs had to enforce new rules in their communities, such as requiring masks in public and shared spaces in the residence halls and limiting the number of guests in dorms.
"Sometimes it was awkward when having to tell residents to put on their mask in the shared spaces, but the majority of people followed the rules," said RA Samantha Warren. "Being an RA has strengthened my communication skills and taught me how to work with people of all personality types."
Warren says that every resident interacts with others in a different way, and it was important for her to recognize that. By taking the time to talk to her residents, Warren learned many life skills about communicating with others. With this mindset, she and other RAs will work to continue ensuring the dorm environment is safe and enjoyable for students next semester.