Women's athletics amid COVID-19 changes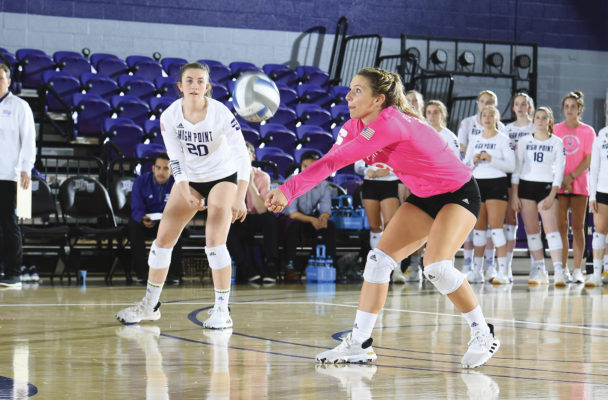 By Noah Stern
Sports Editor
On Aug. 12, the Big South Conference announced that all Division One fall sports would be canceled for the 2020 season due to COVID-19. Many coaches, athletes and students at High Point University have been affected by this decision.
"We are all broken-hearted that we will not be able to provide competitive opportunities for Big South student-athletes this fall," said Big South Commissioner Kyle Kallander in a statement posted to the Big South Conference website. "However, the path forward must protect the health and safety of our student-athletes, and some of the current trends and unknowns with COVID-19 have made that a huge challenge."
Ryan Meek, HPU Women's Volleyball head coach, was happy with the conference's decision to cancel the season.
"It was the right decision," Meek said. "Trying to play this fall would have presented so many challenges, and it just wouldn't have felt like a real season."
Although there won't be a fall season, all fall sports that were postponed are planning to hold a season in the spring. This allows players and coaches to use the entire fall and winter seasons to prepare for their collegiate springtime seasons.
However, it's still extremely difficult to prepare because of all the restrictions that COVID-19 has created. For a team to be successful, there needs to be chemistry and cohesion with the entire team, and this can't happen if they're not practicing all together.
With the state of North Carolina's extension of phase three, there are only 10 people allowed at indoor gatherings and only 50 allowed at outdoor gatherings.
The volleyball team is still practicing, but they can only allow a few players into practices at once.
"We can only do one rep, and then we're done," said Abby Bottomley, a senior leader of the team.
For women's soccer, it has been relatively the same. Athletes are still allowed to practice and train but without any games being played.
"They're getting the majority of what they need done," said Head Coach Brandi Fontaine. "We're still able to train, and if we feel like it's been a light week, we encourage our players to add some extra training in at the end of practice."
Fontaine talked about the uncertain chemistry of the team.
"Everything with COVID is making it really hard," Fontaine said. "The biggest thing is not being in the locker room. They can be themselves behind those closed doors without having to listen to coaches."
With no locker rooms open and athletes not being able to spend time together outside of practice, freshman athletes have had a difficult time getting to know the upperclassmen.
"We've tried to encourage everyone on the team to reach out to the freshmen," said Bottomley.
She said that although restrictions have been challenging, the teams have tried to spend time outside for the upperclassmen and freshmen to have time to connect.
Even with chemistry issues, the extra practice time will be critical come springtime when collegiate games are being played. Bottomley mentioned that the extra time gives everyone time to work on the sport's fundamentals. It also allows younger players, including freshmen and those who didn't get much playing time last season, to get used to what college athletics are really about.
All this time plays well into the hands of HPU athletics.
"I believe we're in line to make a run at a championship this season," said Fontaine. "We have a good core group of returners and 13 new players to add to our roster."
Meek also talked about how the volleyball team was ready for a deep run into the postseason this year. He said that the team did not reach their goal last year because there was a lot of inexperience on the roster, and injuries held them back. The goal every year is to win the Big South Championship, and this year is no different.
"The school has done everything they can to keep students safe," said Meek. "The girls feel safe training, and we're hoping that we all stay safe and healthy."
Winning in the spring will be hard for everyone, not just HPU athletics, but coaches and players alike have been impressed with the way HPU has handled the pandemic.