Welcome Week closes with Winterfest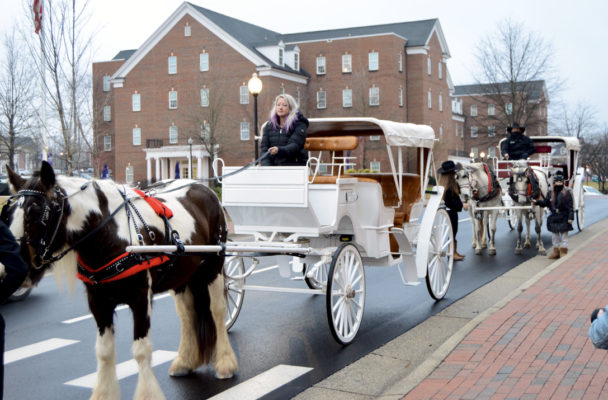 By Elise Coby
Organizations Editor
As a part of Welcome Week, High Point University's Campus Activities Team (C.A.T.) hosted Winterfest outside of the R.G. Wanek Center. 
Winterfest activities included the serving of hot chocolate and horse-and-carriage rides. The fest also welcomed the use of the new ice-skating rink located behind the James H. and Jesse E. Millis Athletic and Convocation Center. 
Associate Director of Recreation Austin Wilson discussed the newly built skating rink and its fun-but-safe way of allowing students to participate in winter events as a community. 
The opening of the rink was announced to students on Jan. 8. Admission to the rink opened for students on Jan. 11.  
"The rink has been in place since [Jan. 7]," Wilson said. "[The night of Jan. 13] was our biggest turnout with almost 400 students for about five hours. In total, close to 1,000 students showed up [over four days of Welcome Week]. Being outside and having open air means everybody is still able to be involved in an activity and not worry too much, as people are constantly keeping their masks on and physically moving."
Wilson also emphasized the rink's fun uniqueness, as North Carolina doesn't have many ice rinks available for its residents. 
HPU freshman Keira McQuillan thinks the skating rink encourages students to get out of their dorms and become involved in a community activity. 
"Skating is a good way to keep active and to distract from the stress of classes," said McQuillan. 
HPU sophomore Madison Dreiss shared her positive and welcoming experience at the Winterfest and ice rink.
"Ice skating was probably my favorite activity," Dreiss said. "Being with my friends and meeting others while doing such a fun activity really showed me how much fun school is. The staff was so nice and helped people if they fell. They really made you feel confident on the ice." 
The ice rink is scheduled to stay open for students until mid-March, weather permitting. 
For more skating information and recreation opportunities, students are encouraged to contact Austin Wilson at awilson0@highpoint.edu. Students who are interested in upcoming events hosted by C.A.T. can check HPU Connect or contact C.A.T. directly at cat@highpoint.edu.