Cisco speaker shares how to appeal to customers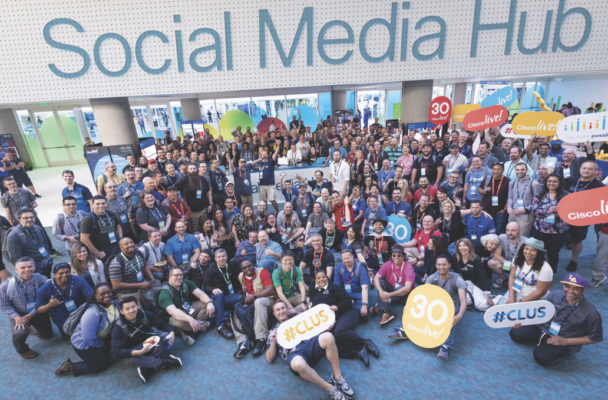 By Nicholas Bainbridge
News Editor
The American Marketing Association hosted Laura Beane as a guest speaker at High Point University on Feb. 3.
Beane is an experienced digital marketer who specializes in using social media. She currently works for Cisco Systems, a technology company that works to develop technology services and products to help people and businesses stay connected.
Cisco is responsible for programs like Webex, the group video call service, that has been used throughout the world for meetings, including at HPU.
Cisco has been so successful at social media networking that it was ranked as having the best social media campaign of 2019 at PR Daily's Digital Marketing and Social Media Awards.
Beane connected to students through Webex at 7 p.m. to share her experience representing her company in her presentation, "Convincing customers to swipe right on your brand."
Her aim is to share with future business leaders the different techniques that she and her colleagues developed to attract customers to their brand. Social media is a major component of this, as much of Beane's work has been on revamping the internet presence of the brand.
A key point of Beane's presentation was that a company needs to have an identifiable personality to be successful on social media.
"Think about Wendy's," Beane said. "They are snarky. They are always talking to customers and being kind of mean. They even have a roast day, where customers beg for Wendy's to roast them. What other company has that kind of engagement?"
She explained that Wendy's has a personification with humor that encourages consumers to interact with it, and that this is an element in its success. According to Beane, having a brand identity like this helps people relate to the brand because the brands' personalities make them feel human.
When developing the brand's identity, Beane and her team worked towards the image of Cisco being an approachable in- novator, someone who could point new trends out to people in an upbeat way.
"If Cisco was a person, what would it be like?" Beane said. "Who would it engage with? Who would it follow?"
These are the kind of questions Beane believes one should ask when developing their business's online persona.
To communicate this, they had Cisco social media accounts act as if they were a person, taking Buzzfeed quizzes about pop culture topics and posting them online. By having the official company account post that it was part of a particular Hogwarts house, it built up an understanding of who the company is.
Beane emphasized that with a company's social media page, there should be a focus on building relationships with consumers, rather than solely pursuing immediate sales. What is important is being a relatable and fun person.
When crafting a brand identity, it is necessary to consider the logo and other aspects of the company.
Because the Golden Gate Bridge is the logo of Cisco, Beane portrays the business as a support and connector for others. Because of this, she has promoted the image of Cisco as a helper of small businesses, aiding them in conducting their work and joining people together.
Beane pointed out how being responsive to feedback and customers that reach out is an asset to companies, as it continues to bolster the relationship they have with the business.
The culture of Cisco was also a component of her presentation. She believes that Cisco being ranked the best place to work two years in a row by Fortune.com was well deserved.
"We have a fantastic work life balance at Cisco," Beane said. "Our work culture is really great."
Beane characterized Cisco as "a family of 77,000," where people can be comfortable and empathetic with one another. She explained that this was because they believe that people are their best selves when they can be authentic.