New fraternity hosts 'Singing Valentine'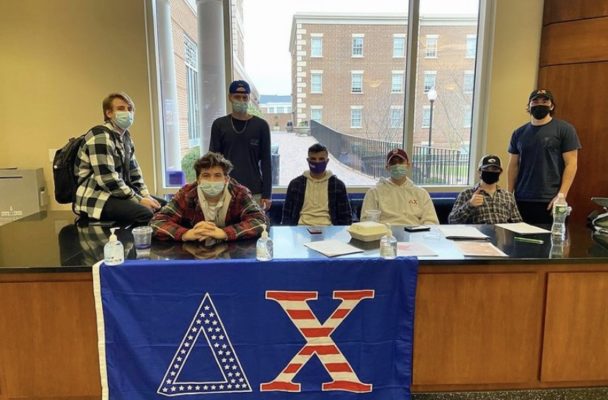 By Elise Coby 
Organizations Editor
Delta Chi, High Point University's newly established fraternity, hosted "Singing Valentine" on Feb. 10 and 11. Included in the promotion was delivery of a love song performed by a brother and a chocolate bar.  
Delta Chi Chair of fundraising John McKenna discussed the goal of starting a creative tradition. 
"The 'Singing Valentine' event was created by several brothers within the fraternity," McKenna said. "The goal of the event is to bring some joy and comedy to people's lives, as well as to give people an option to ask their significant other to be their Valentine through a creative way. As we are new to this campus, we hope the High Point student body likes the idea so we can make this our yearly tradition. Thanks to all who came out to support." 
Secretary Brett Lewis elaborated about the new establishment of the chapter and his hopes of keeping traditions such as "Singing Valentine" alive.
"I am most looking forward to the growth of our fraternity," Lewis said. "I can't wait to see how each class gets better and implements new traditions and events that build our reputation. Our founding fathers are setting a foundation now so that each class that chooses Delta Chi will have the opportunity to build a fraternity that can represent what we stand for nationally, as well as our presence on campus and in the community."
The "Singing Valentine" event was an example of how the new fraternity is branching out into the community. Community Service Chair Mike Castellana commented on a weekly volunteer service Delta Chi participates in.
"We have been volunteering every Friday at the Second Harvest Food Bank where brothers package meal kits for families and assist with daily operations at the warehouse," Castellana said. "Second Harvest Food Bank serves 18 northwest North Carolina counties as a vital source of food and support services for 430+ local food assistance programs. We will also be hosting a food drive in partnership with Second Harvest Food Bank. We hope to make an everlasting impact on hunger in High Point and North Carolina."
On-campus fundraisers allow Delta Chi the opportunity to raise money for its philanthropy of the V Foundation for Cancer Research, founded in 1993 by ESPN and basketball coach Jim Valvano with a goal to "Achieve Victory over Cancer." Since its birth, the foundation has raised more than $250 million in cancer research grants.  
"We already had over four philanthropy events, one with another sorority on campus, raising over $2,000 for the V Foundation in only half a semester," said Rory Pako, Vice President of the fraternity. "We have many more events to come.  We just had our first pledge class, bringing in eight new members. What started out just like any other fraternity coming on campus has turned into something that no one expected, something that's here to stay for a long time."
Pako discussed the steps taken to plan and jumpstart the fraternity during the COVID-19 pandemic.
"It took a couple of hardworking, intelligent men working hand and hand with Delta Chi headquarters to get the ball rolling," said Pako. "These men, with the help of headquarters, set up events to get Delta Chi known on campus to then create the opportunity for students to rush."
After the rush process, 10 students became founding fathers. 
For the growth and expansion of Delta Chi, the headquarters hand-selected the executive board through interviews with all interested candidates for the positions. The result of the new positions turned out to be a large success, as it opened doors to further community engagement opportunities for Delta Chi brothers. 
Co-Recruitment Chairs Aidan Dennis and Zach Weseloh discussed their anticipation of meeting potential new members this fall.
"We are always looking for new members," Dennis said. "We are looking for leaders, people who want to be a part of something new and find something great. We are not currently not offering any more bids. However, we are eager to start meeting new people for the fall semester."
Students can follow Delta Chi's Instagram, @hpu_deltachi, or visit highpoint.edu/greeklife to learn more about Delta Chi.