Derby Day brings attractions and crowds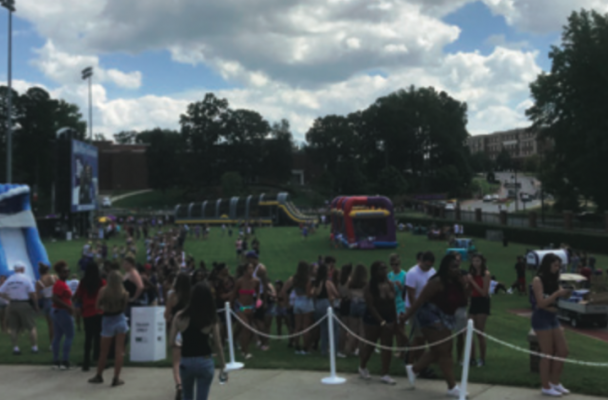 By Nicholas Bainbridge// News Editor
Aug. 25 marked the return of the annual High Point University Derby Day, an event hosted by the college at the beginning of every year as part of an initiative to welcome its' incoming freshman class. 
The event organizers had many people to impress as the class of 2022 brought over 1,500 new students, which is more than the entirety of undergraduate students who attended the university during the year 2005. 
Hundreds of HPU students, freshmen and upperclassmen alike ventured to the Crowder Intramural Field where they were greeted with several things to draw attention, such as the food trucks offering lunch and refreshments to attendees.
Some inflatable attractions skattered the field and immediately pulled the attention of visitors. A maze with two paths that friends could race through was riddled with obstructions that had to be leaped over or ducked through, especially the prominent rotating bar that sought to sweep over contenders. 
There were two other inflatable obstacle courses as well, both allowing people to contend in a competition of speed and agility. 
If any part of the event was to be defined by its appeal, however, then it would have to be the corn on the cob. These students were waiting eagerly for what they heard was the highlight of the event, the corn. 
"The corn is the most exciting thing to me," explained Sarah Rutherford, one of the newly admitted freshmen at HPU.
It even grasped the attention of campus visitors such as Anthony Herrera, who only arrived to spend time with their friends who attend HPU.
"I've heard that the corn is golden and majestic. I can't wait," Herrera exclaimed.
While Derby Day was exciting for some, others felt disappointed. 
"The long lines for food are annoying," commented James Botsko, a freshman, who had waited half an hour to get the famed corn. 
His classmate, Connor Williams, was also critical of the event and was dismayed by how empty the field felt. 
"There's not many people here. All the upperclassmen went to their parties off campus," Williams pointed out. "I think it might be because the guards make people anxious, but at least I hear the food's good."
It is unclear whether it was a success or not in bringing excitement to campus and uniting the community as students become bogged down with class, nor is it certain what changes, if any, will be made for next year's rendition of the event. 
Students gathered for the event. Photo by Nicholas Bainbridge