Providing prospective interns invaluable insight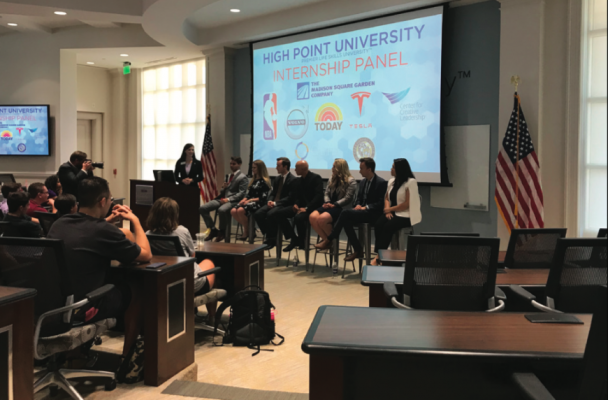 By Nicholas Bainbridge// News Editor
On August 31, a group of seven High Point University students hosted a panel at Cottrell, where they discussed their experiences with internships at major companies and offered guidance to their peers on how they could work towards being accepted for internships in their fields. 
Each of the students had plenty of astute observations about the internship process and what behaviors are advantageous for achieving one's goals. Jeremy Thompson, a student who worked with a Greensboro Police patrol unit as part of his internship, discussed the importance of self-motivation and drive.
"You should get up in the morning and push yourself. Don't wait for someone else to do it for you," Thompson advised.
The value of determination was a popular position amongst the panelists, and many of them were explicit in saying how important it is to continue pushing oneself to keep trying and do better. 
G. R. Dulac, who interned at the Center for Creative Leadership, an organization dedicated to developing people's communicative and leadership capabilities, explained that getting an internship is not always an easy task. He had previously applied to the organization but was rejected. However, he explained that after focusing on his personal growth and development over the course of a year, he was accepted when he re-applied the following year. 
While the chance of failure will always be present, panelist Chris Schorn, who interned at Tesla, stressed that people should stay calm when applying for internships. Schorn said that not everything in your internship search will go as expected, but it doesn't mean you should feel defeated.  
"Don't be as nervous as you are," Schorn suggested. "Don't let your letdowns ruin your whole week."
Another kernel of wisdom that the panelists stressed was the relevance of growing one's sphere of influence by forming connections with others in your field. Allison Hayes explained the impact that this had on her story of how she obtained an internship at Caffey Distributing doing sales research. 
Hayes said that she was familiar with the brewery business because her father's store worked with such companies to have their products on his establishment's shelves. She drew on what she had observed there to set herself apart, and because of this managed to impress Caffey Distributing enough for them to accept her application.
The panelists were quite proud of their achievements and gained valuable experience from them that may prove useful later in their careers. Lauren Leonard, who interned at Triumvirate Environmental, remarked that her favorite experience was giving a presentation to the CEOs. She explained that while it was a nerve-racking experience, it was a worthwhile one as well.
Some of the projects the students worked on even had a fun aspect to them. Mitch Rissmiller worked with a team of Warner Brothers employees on creating advertisements. One project in particular that he highlighted was the newly released film, "Crazy Rich Asians." 
Cassandra Diaz interned at the NBA global partnerships division, which is responsible for managing relationships with sponsors like Nike and Goodyear. She had the daunting task of coordinating the NBA draft. 
She explained that while being surrounded by famous athletes like Donovan Mitchell, she had to be professional about the work, and be willing to tell them what they need to do to keep the event running smoothly. 
The internships were an irreplaceable experience for the students and have granted them knowledge, connections and tools that will likely be advantageous in the future of their careers. 
Photos by Nicholas Bainbridge