'Yellowstone' shows potential in a mixed, slow first season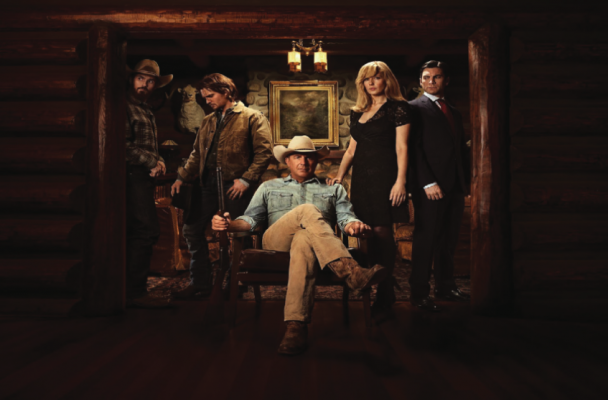 By Drew Henderson// A&E Editor

From the Writer of 'Sicario' and 'Wind River,'  Taylor Sheridan, comes a new drama about a wealthy family from Montana, who must defend their land from the people and companies that are trying to take it. In "Yellowstone," we follow the Dutton Family, which includes the patriarch John Dutton, played by Kevin Costner, and his children, Kayce, Beth and Jamie, who are portrayed by Luke Grimes, Kelly Reilly, and Wes Bentley, respectively. "Yellowstone" was one of the first new original programs, created by the newly formed Paramount Network. For the studio, it was a success as "Yellowstone" was a rating hit for them. I enjoyed watching the show, as it was a slow burn drama that was basically a modern-day cowboy story, which is a genre that is rarely explored in this day and age. But as much as I loved turning in, each week to see what problem was next for the Dutton's, I did have some complaints about its freshman season. 
The first episode of the season, "Daybreak," is a 90-minute slog of exposition and background information; it almost proved a bit too slow for me. But after this elongated pilot, the show moved at a faster pace for the rest of the season, with each episode being about 40 minutes or so and going at a good pace. But beyond that first episode, the steaks in the series kind of diminished. Instead of real threats, there were small problems that took too many episodes to solve. Some were even left unresolved by the season finale. This brings me to my first complaint about the series. Even for a slow-burn series, it moved way too slow. There would be events that would happen in episodes, but it felt like it would be forever until they were either resolved or just pushed forward into the next season, which is something the finale did a lot. 
The characters of "Yellowstone" were also a bit mixed for me. During the season, some of my favorite characters were John Dutton, played by Costner, and his right-hand man, Rip Wheeler, played by Cole Hauser. Obviously, beyond the western setting and the talent behind the project, Costner was one of the reasons I wanted to watch "Yellowstone." I enjoy his acting, and he did deliver in the show, as he was a man who was compassionate about his family and protecting them, yet willing to do anything to defend his land as well. The one character that started to become my favorite during the show was Rip, and this was because he was just an interesting character. He was a man, who like John, was willing to do anything to protect the ranch, but also had to deal with the necessary actions to protect the land at any cost. Beyond them, everyone else was a fairly bad character. Beth Dutton seemed crazy and over-the-top mad, rather than an enjoyable character. Every time she was on screen, I was hoping that she would not be on there for too long.
Overall, if the second season were to focus on a tighter story and were able to give a bit more character development to some of the other members of the Dutton family, Sheridan might be able to make "Yellowstone" a better show in its second season and also be able to continue his streak of great neo-western entertainment. "Yellowstone" may prove to be a mixed bag for some, but it is a beautifully shot series that feels like similar shows such as "Dallas" and "Succession."
Photo provided by Paramount Network