Get to know the newest members of SGA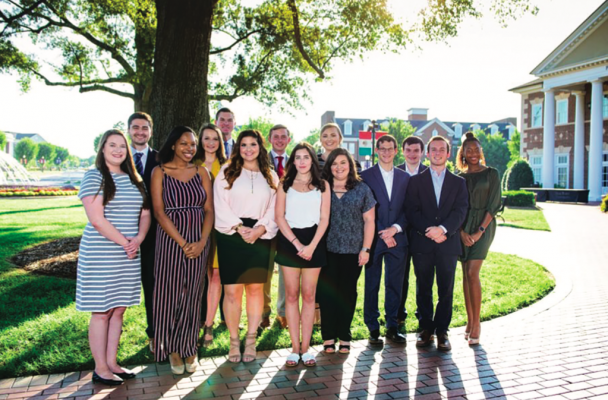 By Katrina Zrubek// Staff Writer
It can be challenging to know what to expect from High Point University Student Government Association representatives when many students primarily only see the representative's posters around campus. Perhaps many students have not had the chance to meet with the new SGA representatives formally. This is by no fault to either party, given the plethora of High Point students in general.
Every year during the election season, there is a new Executive Council selected, as well as freshman class representatives. First and foremost, the executive council has a duty to represent the HPU students in a respectful, dignified manner. SGA President Lyndsey Clos says, "As the president of the student body, it is my mission to ensure that all student concerns and voices have the opportunity to be heard. My Executive Council will work together throughout the year to support student-run clubs and organizations across campus as we push forward to get SGA more involved in both HPU and local communities." 
SGA Vice President Kirby Hutcheson had a different but equally important take on her role saying, "I want to use my position to better the Senate and set an example in conduct for the student body." 
Below are responses from newly elected Executive Council members and SGA freshman representatives about their roles.
Treasurer Alex Bush, Junior: "I am a junior majoring in political science on a pre-law track. As treasurer, I assist clubs and organizations with their financial questions, help with bills, track budgets, hold clubs accountable for the money they are spending, and answer any other questions they have regarding SGA finances."
Attorney General Alexis Ogren, Junior: "As the Attorney General, it is my responsibility to run all elections, check for eligibility on all elected officers, prosecute all cases as the Hearing Officer and uphold the professionalism within the Senate. This year, I have worked to update all pertaining bylaws and create election reading material, making elections a breeze."
Chief Justice Michael Dreher, Senior: "I am working on creating a more inclusive and supportive process for new organizations that educates and welcomes new groups into the SGA. Additionally, I am working with the Student Life Committee to standardize the constitution approval process." 
Secretary Isla McGlauflin, Senior: "My name is Isla and I am the secretary of SGA. I am also a senior majoring in psychology. I am working on transitioning electronic document storage to our HPU connect system for a more accessible and transparent system."
Service Chair Tucker Wilson, Junior: "I am from Pembroke, Massachusetts, and I am double majoring in political science and international relations. In my new position as the SGA Service Chair, I want to further bridge the gap between HPU and our surrounding community. I have been working on many campus outreach projects, and I truly want to help our High Point community in every way that I possibly can."
Student Services Chair GR Dulac, Senior: "The student services chair works with staff and administration to find ways to improve the quality of life for students on campus. These changes are based upon student concerns, complaints and recommendations."
Publicity Chair Ariana Baio, Senior: "I'm majoring in journalism at HPU. My job as the publicity chair is to promote any events or news our organizations on campus have! I am excited to take on the role this year because I love finding new ways to make social media engaging for an audience."
Diversity Chair Monet Gilmore, Junior: "I was born in Washington, D.C., and raised in Prince George's County, Maryland. My major is exercise science with a minor in Psychology. I believe part of my purpose at HPU is spreading and increasing diversity awareness not just through education on campus but in campus life as a whole."
Academic Chair Logan Jones, Senior: "I am a senior majoring in entrepreneurship. As the academic chair, I plan to add an African-American studies minor and any other programs of interest to the student body, which can be added as an option for future classes."
Student Government Association (SGA) Freshman Class: 
Al Dean President: "I am from Burlington, North Carolina, and graduated from Western Alamance High School! My goal as the president will be to increase student involvement and hopefully have a 2022 class formal."
Grayson Rachels Representative: "My name is Grayson Rachels from Pinehurst, North Carolina, and I am one of the three newly elected freshman class representatives. I have previously served as an officer in my high school's chapter of Student Government, as well as an officer in multiple honor societies and was one of my school's first student ambassadors. As far as what I hope to achieve this year in my new position, I would love to get more people in my class involved in campus activities and student life outside of the classroom. I am so grateful to have been chosen to represent my freshman class, and I will work diligently to advocate for the class of 2022. "
Alana Sullivan Representative: "I am from Quincy, Massachusetts. Here at HPU, I am a sports management major. So far on campus, I have gotten involved in the sport management association, Women Leaders in Sport Management, and I am a new member of the Kappa Delta Sorority. As a freshman class representative, my goal for our class is to get more involved. I think that by getting our class more involved on campus, it will not only bring us closer as a class, but we will be able to make our mark on HPU."
Emmy Beck-Aden Representative: "I am very excited to start my work in this position, and I am looking forward to creating meaningful community service and fundraising events that are of interest to the Class of 2022. One of my ideas is to help combat food insecurity in the greater High Point community by various community service efforts that involve the whole class. I am also very interested in exploring social and networking opportunities for students in the Class of 2022."
The newest members of the SGA Executive Council gather outside near Philips Hall. Photo submitted