Jesse McCartney performs for HPU fall concert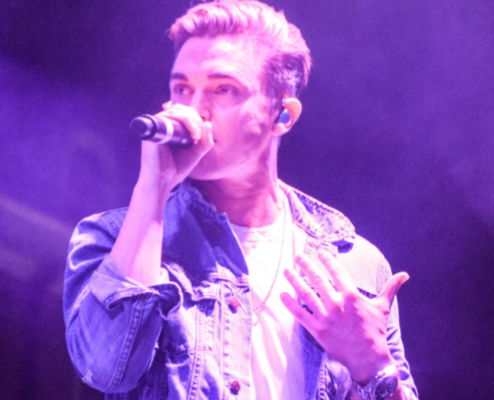 By Ann Shelley// Opinion Editor
On Sept. 28, an array of phones with the Snapchat app running gathered on Roberts Hall Lawn for the annual High Point University fall concert. Prior to the main event, the opening act Christian Langston entertained the anticipating crowd. Langston is a current HPU student and left the crowd well warmed up for headliner Jesse McCartney. 
Jesse McCartney was the heartthrob for many teenage girl's middle school or high school years. McCartney has been active in the music industry from 1998 to the present, as well as the acting world. His genre is more pop or pop rock. At the prime age of 31, McCartney is still touring with his newest song "Selfless" and "Wasted" just released this past summer. 
    "I have waited my whole life for this moment," said Jess Fermin, class of 2019. "Beautiful Soul is one of the best songs from my childhood."
McCartney waited until the encore to play everyone's favorite throwback song. Fermin's excitement was not without company.
"'Beautiful Soul' by Jesse McCartney will forever be one of my favorite throwback songs," said Caroline Cunningham, Jesse McCartney fan and HPU class of 2019. 
    Although his career started back in 1998, 20 years later McCartney still spends a generous amount of his time performing and continues to tour today.  McCartney's "Better With You"  Tour is going on from 2018-2019, and he is scheduled to perform over the United States from Nashville to Chicago. HPU was just one of the many venues on his tour. This tour started back in early June and is continuing throughout 2019. 
 "I didn't know what to expect from this type of concert since this is his first tour in years," said Dan Medici, class of 2019. "but I do know his songs have such good lyrics." 
    His last tour was back in 2014 titled, "In Technicolor." His very first musical tour, "Beautiful Soul," began in 2005. Over the years, he won many awards like Teen Choice Male Artist, Breakout Artist – Male, Choice Crossover Artist, Best Vocal Ensemble in a Video Game and Best Vocal Ensemble in a Television Series. All of these happened around the time when he first released his music. Jesse McCartney is also known for his appearances on television series "The Suite Life of Zack & Cody" and "Hannah Montana." McCartney was also the voice of Theodore for Alvin and the Chipmunks films. 
    "It's good to see him back on tour," said Lynn Cole, class of 2019. "He really put on a good show." 
After 9 p.m. on Sept. 28, he rocked HPU with his catchy pop songs. There was an excellent turnout and a lucky fan even had the opportunity to go up on stage and dance with the pop star. Everyone in the crowd was cheering as Ryley Fredericksen, class of 2020, was the one lucky crowd member to get individually picked for McCartney to serenade. This was a fall concert Fredericksen and many other attendees will not forget anytime soon. 
Performance for the fall concert from Jesse McCartney proved to be a huge hit for HPU students. Photos by Ann Shelley.