HPU honors veterans for their service at annual event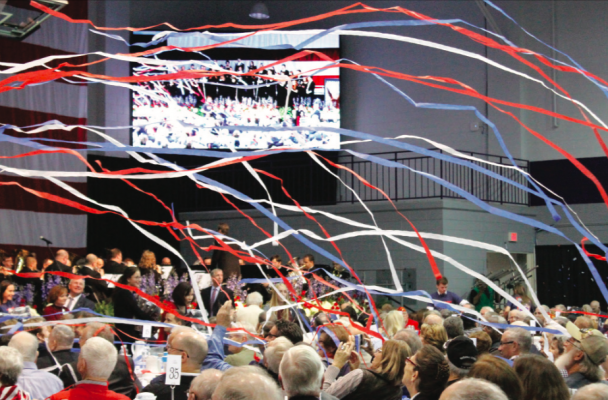 By Faith Foushee// Staff Writer
Veterans Day is a day to celebrate and honor those who have fought and those who are currently fighting for this country. Every year High Point University has a Veterans Day Celebration where people come from a few minutes away to 10 hours away to gather in the Millis Athletic and Convocation Center for the event. 
At the event, attendees listened to speakers, heard singers and bands from HPU, and enjoyed a complimentary breakfast. Each year various speakers express their thanks as well as honor all those who have served. 
Most of these speakers are people who served or have loved ones who did. This year the event was held on Nov. 9 and had over 1,000 people in attendance. 
HPU's president Nido Qubein and Ryan Manion, the president of the Travis Manion Foundation, were the two main speakers who spoke words of encouragement and praise to all of the Veterans in attendance. 
HPU's core values include God, family, and pride for our country, said Qubein, and the value of the country was especially expressed at this celebration. 
Many students are involved in helping the veteran community through clubs and projects. Maggie Andrulis, a senior, spoke about her experience with Patriot Rovers, where they train dogs to assist veterans in need. 
"Through this project, we were able to experience the training hands-on and see just how effective and beneficial the dogs are for veterans," said Andrulis. "While working with the Patriot Rovers, I had the honor of designing our photography exhibit to help tell their story."
The pictures Andrulis and her classmates, all part of a service learning course, took can be viewed in the Norton Art Gallery.
There are many other opportunities for HPU students to get involved that Andrulis mentioned in her speech. The Bed Brigade, which builds beds for homeless veterans shelters in North and South Carolina will host a bed building event on campus on Nov. 17. Andrulis also mentioned how some of the fraternities and sororities are involved. 
"Noah Bastian, representing Kappa Alpha Order Fraternity, partnered with the Independence Fund and Operation K.A.R.E," Bastian said. "These organizations will provide J. Michael Boucher, a former United States Marine Corporal wounded while serving in Afghanistan, a $16,000 Track Chair that helps wounded veterans by improving their mobility, providing for a more active and independent lifestyle." 
Kelly Boles, a senior at HPU, has been a student volunteer at the Veterans Day Celebration since freshman year. She was distributing gifts of blankets and T-shirts to the veterans and was pleased to see the impact. 
"I enjoy seeing how happy all of the veterans are and how thankful that they are for what we do even if it is just giving them a blanket or giving them a T-shirt," said Boles. "I do it just to give back and make these people feel welcomed, and I want to show them how thankful we are for all that they do. It is rewarding to see, and I am so thankful and glad to do it every year." 
Robin D. Hamilton is currently an officer in the United States Navy and HPU alumna. She has attended HPU's Veteran Celebration for many years and is thankful for the work the university does. 
"I'm always inspired by the guest speakers," said Hamilton. "I've come to this a couple of times and they always get incredible speakers. I'm still serving and I've got 34 years, so you need your battery recharged sometimes. Not just for service in the military but also in the community because sailors or military, in general, make great citizens. I get inspired every time to be a great American." 
Robert Perkinson was in the Air Force as a flight line jet engine mechanic and just retired after working for 35 years. He was pleased to tell his own story.
"I grew up in north Raleigh and my wife and I both graduated from Millbrook High School," said Perkinson. "After graduating I went to Atlantic Christian College to major in music, but my parents wouldn't help me so I ran out of money and joined the Air Force and finally found my niche."
Perkinson encourages students to do something out of enjoyment and passion so that you can look forward to work each day like he does. Also, his father-in-law graduated from HPU in 1956 when the campus consisted of only a few buildings.
HPU's Veterans Day Celebration is one that many look forward to each year and has a significant impact on all of those involved. It gives students and faculty a time to reflect on how fortunate the United States is and to be thankful for all of the men and women who fight to protect it.
Confetti being released at the Veterans Day celebration hosted by HPU. Photo by Faith Foushee