HPU hosts prestigious law school fair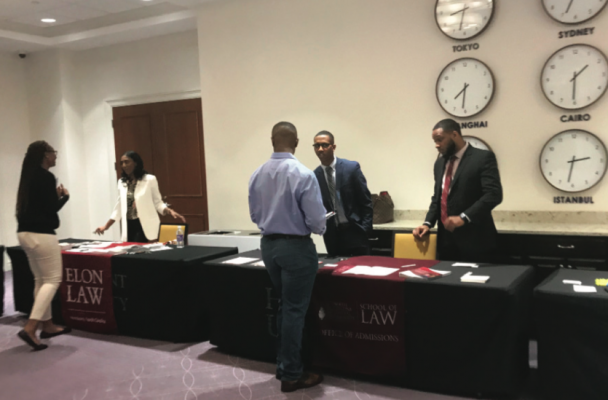 By Nicholas Bainbridge// News Editor
Representatives from several of the nation's most prestigious law schools came to High Point University for the annual Fall Law School Fair on Nov. 7. The Kushner International Networking Marketplace in Cottrell Hall was filled with       several tables where prospective lawyers could seek information about the various programs afforded to students who attend certain law schools. 
Universities including Fordham University, Mercer, Richmond and several others were featured at the event, each with a representative of their prospective law school program offering students more information on the variety of programs open to them and why they should attend their university as opposed to the other competitors present. 
Several of the representatives came to HPU to present because they had heard from their colleagues that HPU had a stock of students with the potential to become proficient lawyers.
"I met with an HPU pre-law advisor at the NAPLA pre-law conference and they told me to come to this event," said Stephen Brown, the assistant dean of Enrollment at the Fordham Law School. 
"This is my first visit here and a colleague of mine told me about the caliber of students here," said Marilyn E. Sutton, the assistant dean of Admissions and Financial Aid at the Mercer University School of Law.
Other representatives were already familiar with HPU due to previous events and returned after previous visits yielded pleasing results for them.
"We have come to this event before and have had success getting good students then so we decided to return," said Brandon T. Metheny, Esq., the assistant director of Admissions and Enrollment Analytics for the Richmond School of Law.
The presenters were eager to explain the details of their programs and showed that they each were structured uniquely from each other to appeal to different types of students.
"We have one of the top victim advocacy programs in the country at Mercer," said Marilyn Sutton. "We are a small school like HPU so our professors can have a lot of one-on-one time with students." 
Mercer's law school is indeed a small school, hosting just under 400 students. Sutton also detailed Mercer's affordable program which offers financial aid to 97 percent of students. She also took pride in the fact that Mercer Law is regularly ranked as having one of the best legal writing programs in America.
Rather than channeling resources to a small number of students like Mercer, the Fordham School of Law takes pride in its large student body, hosting over 1,000 students. 
"We are a large school and because of that we have a large faculty who are able to provide many different course offerings to our students," said Stephen Brown.
Brown talked extensively about how Fordham students, if they so desired, could study a particular concentration by taking a specific set of classes. Brown argued that this allows them to specialize themselves for one particular career path.
The representative of Richmond University was quite proud of his school's scholastic environment and unique geography.
"Two things set Richmond apart," said Brandon T. Metheny Esq. "We are the only law school in the capital of Virginia, and we have a special collegiate atmosphere where everyone is willing to help each other to be better."
The community aspect was especially crucial to Metheny, emphasizing the focus on collaboration between students and how that will better prepare them to work with their colleagues in the law profession after graduation.
HPU's Law School Fair offered pre-law and criminal justice majors an invaluable opportunity to prepare for the next step in their education. The schools represented are geared towards the goal of ensuring that students who are accepted to their institutions are sufficiently prepared to enter the job market as legal professionals.
Prospective lawyers and HPU students interested in law meet with representatives to learn more about law school and law programs. Photos by Nicholas Bainbridge