Sechrest Art Gallery introduces new exhibit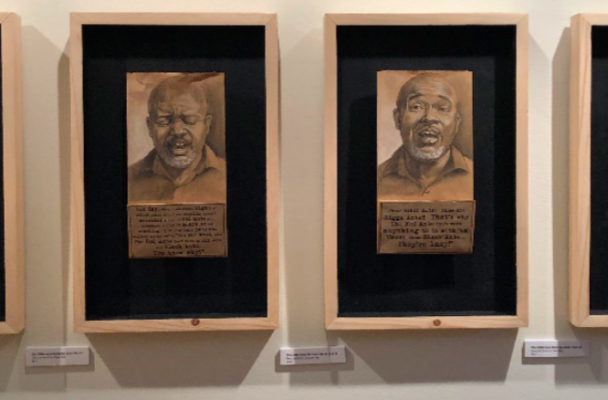 By Devon Wilkinson// Editor in Chief
The recessed lighting in High Point University's Darrell E. Sechrest Art Gallery couldn't have been put to better use than in the current exposition being hosted. Brown paper bags placed in shadow boxes create an oxymoronic, first-impression of each piece that lines the walls of the gallery. Either drawn in graphite or charcoal or painted on in muted tones is a depiction of a person, and most include a written story. 
The Pass/Fail Series, by documentarian and visual artist Steven M. Cozart, is his artistic representation of historical practices within the African American community. Every piece ranges in size and some pieces are made up of three or four shadow boxes placed side by side to fulfill the intending narrative purpose. 
The series was born when Cozart interviewed friends, relatives, acquaintances and members in his community, then created work based on the direction of the conversations. The stories depicted in his work challenge the expectations of race, identity and self-acceptance through the lens of those who have something to say.
"I found the stories inspiring and enlightening and sometimes even humorous on African American culture and it's history," said Devin Nicely, weekend visitor of the gallery.
The brown paper bag in each piece has a metaphoric and symbolic purpose, a reference to an old stigma his mother use to tell Cozart as a child.  What does it mean? Visit the gallery and find out. 
"I fully expect that some will find this enlightening, while others will find it unacceptable and enraging," says Cozart, acknowledging the confliction visitors may feel on the appropriate takeaway of the series. But he wants his audience to be without concern. "As long as the conversation beings to happen, I can accept that." 
The Pass/Fail Series will be held at Sechrest Art Gallery located in Hayworth Fine Arts Center until March 8. The Gallery is open from 1 to 5:00 p.m. Monday through Friday.
Pictured above is work from local artist, Steven M. Cozart. Photo by Devon Wilkinson