'Rise' app will help HPU students succeed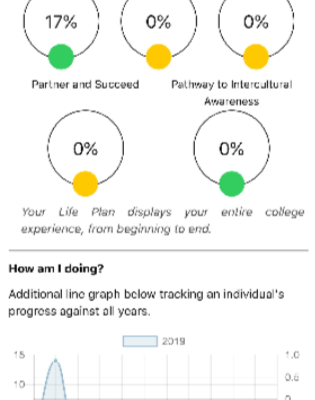 By Julie Burkett// Staff Writer
A new App is coming to High Point University that will streamline the success for career and professional development. But this app isn't just for freshmen; the "Rise" app is intended to act as a virtual timeline for all extracurricular events at HPU. This doesn't just include academics; the app tracks everything from study abroad opportunities to internship meetings and information. "Rise" also allows its users to reach out to professional faculty throughout the HPU community. It even includes automated messages to reach out and make contact with other faculty members to help students achieve their professional goals. 
"The 'Rise' app came out of a need to capture the things that students already do; such as make resumes, complete internships and even extracurricular activities," said Wellington Souza, the owner of "Rise." He explains his ideas for the app's functionality in students' daily life. 
"The 'Rise' app allows the students to track their success to increase their chances of getting a job after graduation or get into graduate school." Souza also intends for the app to capture the things that many students do already. It will act as a buffer between the classroom and professional life. The Rise app will provide proof that a student has completed their resume, applied for jobs or internships, or even completed the correct forms for study abroad. These tasks can be completed in the form of badges. 
In order to complete a full badge, four-six different tasks need to be completed. These badges can be completed in two different ways. First, the student can self-report a specific task has been completed. This makes less significant badges easy to complete without waiting a long time. Or second, the task is marked completed by an administrator or success coach. The students' progress can be monitored, and new badges or tasks can be added if needed. 
This App is still new and is unavailable in the app store. Currently, only about 30 students have tested the app through a special pilot program. Souza assured that the app has the capacity to be flexible and relevant to different majors. This feature will make the process of preparing for graduation and completing requirements much more manageable. 
Rise hopes to introduce a new geo-location in its beta form. The feature will allow students to check into locations to check off tasks that involve specific places. This feature isn't intended to act as a babysitter for HPU students, but rather to keep track of professional and extra-curricular achievements in one place. 
"The Rise app is a 4-year journey that will help students track their experiential learning experiences here at High Point University," says Souza.
 Another developer, Dr. Stephanie Crofton, better explains the purpose of the app. 
"They will be able to do all the things that will help them become career ready and learn life skills, such as preparing their resume, meeting with their success coach, learning about study abroad, and getting involved on campus." 
Essentially the "Rise" app hopes to become an interactive and malleable checklist that will help students achieve professional and academic goals across a streamlined and straightforward platform.
Pictured above is a screenshot from the new Rise app. Photo Submitted