Community comes together to celebrate Earth Day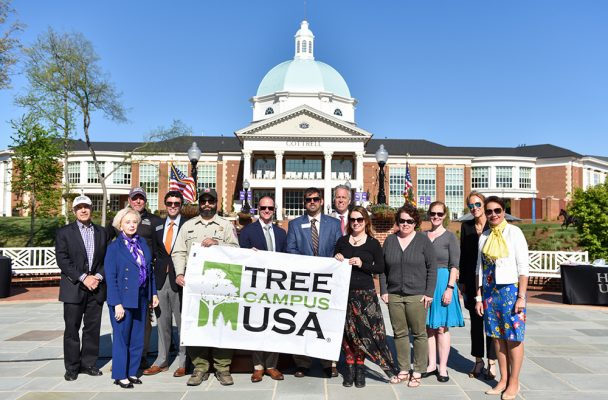 By Nicholas Bainbridge
News Editor
Hayworth Park was alive with activity on April 24. Students, faculty and visitors gathered around the pond behind the Slane Student Center to celebrate Earth Day with plenty of festivities.
Various organizations from High Point University and the surrounding area set up stalls where they spoke about environmental issues. People from diverse backgrounds were present, including scientists, farmers, tour guides and more.
Many people at the fair focused on issues of recent environmental changes. Dr. Nicole Hughes, an associate professor of biology at HPU, brought attention to the issue of climate change and facilitated open discussion about humanity's impact on the world.
"Students do not get to talk a lot about climate change in their classes," said Hughes, "so I decided this would be a good opportunity to give them that chance."
Hughes readily answered any questions people had about the issue and cleared up any confusion they had about the science behind climate change. She explained that the most prominent cause of climate change that could feasibly be addressed was the prevalent use of fossil fuels for power.
According to Hughes, China is the greatest contributor to climate change due to its massive population, but Americans produce more pollution per capita. She argued that in order to minimize humanity's impact, people must lessen the amount of energy they use.
She also said slowing down, halting, or even
reversing climate change will require scientists to
work with experts in other fields. People knowledgeable about the economy and electrical industries can use their skills to lead energy producers away from fossil fuels and towards alternative means of generating power.
"People with business and marketing skills are really important as well," said Hughes. "They are necessary to change the focus from fossil fuels to alternative solutions."
Also present at the fair was Cenergistic, the company that is responsible for ensuring HPU manages its electrical resources efficiently to reduce costs and the school's carbon footprint. Since the company was contracted by HPU in October 2017, it has saved the college nearly $1.5 million in energy.
Cenergistic minimizes energy expenditures by monitoring heat and air conditioning levels, and most of their energy saved is during breaks when students are not present. They also set restrictions on air conditioning during the school year to further reduce costs. There is an acceptable range between 68 and 74 degrees that rooms are allowed to be, but the system will not allow rooms to escape these bounds artificially. These policies ensure that residents do not waste substantial amounts of power.
The fair also prominently featured various animals brought by outside organizations to interact with HPU staff and students. Lisa Lee and her associates from the Guilford County Animal Shelter brought several of their adoptable canines to the fair to gain ex- posure and find new families.
"It's a huge enrichment for the pups to come here," said Lee. "It is not often that they get to interact with so many people."
Lisa Lee was motivated to bring the dogs to HPU because of a group of students known as Tigger's Mark who volunteer at the Guilford County Animal Shelter. Tigger's Mark made the shelter realize the potential help it could attract from other HPU students. Anyone interested in volunteering at the shelter can apply on their website.
There was also a petting zoo featuring farm animals. The Carolina Fun Factory, a company that facilitates exciting and educational events for young children, brought goats, sheep, a cow and a llama. These animals were placed in a pen in the middle of the fair for all to see. After cleaning their hands, people were allowed to get close to and interact with the animals. Many pet and fed the creatures, while others posed for photos with their furry friends.
Beverly Padgett, a representative of the Carolina Fun Factory, was present to introduce the animals and explain their importance.
"Everybody loves animals, especially those you aren't familiar with," Padgett said.
She also pointed out that people will gradually have less contact with animals like this as farmland is continuing to be developed, and young people's interest in agricultural careers is declining.
The farm animals were quite popular among students. When asked what he thought was the most exciting part of the fair, sophomore Hannibal Chakhtoura was quick to respond.
"The animals," said Chakhtoura. "Everyone is near them, and they have ones you don't see every day like llamas and sheep."
The Carolina Fun Factory has brought its animals to HPU several times before, primarily during the annual Earth Day Fair and Community Christmas gathering.
Some groups came to spark interest in exciting nature-based activities. Triad Eagle Adventures, a company that specializes in providing people with eco-friendly tourism options, was present to spread information about the different experiences they offered.
Triad Eagle Adventures hosts hiking trips, tours of nearby cities and art pieces and exposes people to cultural landmarks. Prominently featured in many of their tours are Segways, which they allowed several people to test drive at the fair.
Attendees could satisfy their hunger with corncobs, pastries and traditional cuisine while other stands offered items including water, soda and coffee. There were also many activities such as Frisbee games, biking and more.