Fellows programs serve together on MLK Day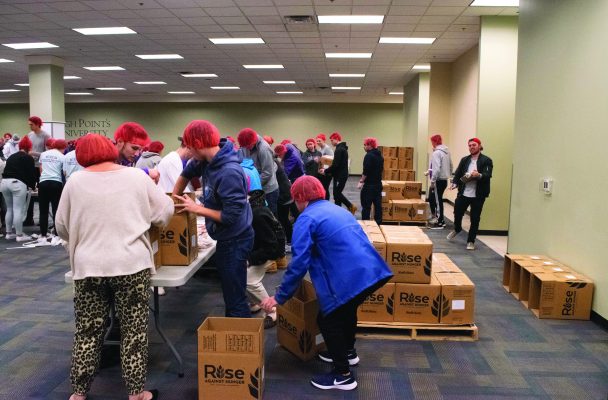 By Faith Foushee
Digital Media Editor
Martin Luther King Jr. Day is filled with service opportunities instead of classes. On Jan. 20, students volunteered their time in 46 different ways to total over 1,500 hours of community service throughout the city of High Point. The projects ranged from painting buildings to planting community gardens to cleaning the Heroes Center and many more.
Dr. Oliver Stoutner, director of the Business Fellows Program at High Point University, organized a service event and invited all of the other Fellows programs to join. Other Fellows in attendance included the Media Fellows, Leadership Fellows, Education Fellows and Natural Science Fellows.
HPU partnered with Rise Against Hunger, an international hunger relief organization that distributes food and aid to areas in need. Their ultimate goal is to end world hunger by 2030. Students in different Fellows programs assisted toward their goal by pack- aging 30,000 meals to give to people around the world.
The director that works with Rise Against Hunger explained to the students that many of these meals will be distributed to schools where the students may be experiencing food insecurity. Many of these students would otherwise not be fed if it were not for the schools providing meals.
"Dr. King was a person committed to a set of guiding principles," said Stoutner. "Principles like serving others, building community and change for good. Here at HPU and in our Fellows programs, those are the values that we share and believe in. All of the fellows worked together to emulate Dr. King's example and focus our fellows communities toward collective service and change for good."
Students entered the HPU Community Center, were given directions and chose their positions. While some students put all of the nutrients into bags, others served as runners, taking the bags to the next station. Other jobs included weighing the bags, sealing them and counting. Every time the count reached 1,000 bags, a student hit the gong and everyone cheered. A steady pace was quickly set, and the goal of 30,000 meals was met by 5 p.m.
As a meal packager, Tyler Thomas scooped rice into the bag of nutrients. Thomas shared why volunteering is important to him, not only on MLK Jr. Day, but every day. "Volunteering is a great reminder to be thankful for your current circumstances, regardless of what they are," said Thomas.
"While I have more food than I could ever need, there are people around the world who are suffering from hunger, and I do not deserve to not be where they are. I am thankful that Dr. Stoutner planned this service project for MLK Jr. Day, and I look forward to continuing to support Rise Against Hunger's cause."
Riley Marion, a first-year Media Fellow, attended the Rise Against Hunger event. "This event truly blew my expectations out of the water," Marion said. "It was amazing to see so many students come together for such an amazing cause. Being able to package 30,000 meals in just over an hour is something I could not even fathom doing, but paid off with all of the fellows working hard together."
Marion hopes to continue learning more about the Rise Against Hunger organization and participate in another event like this in the future.
The organization also provides crisis relief and empowers communities through agriculture and income-generating initiatives. In one week, 698,544 meals were packed and 77 countries were served. People can learn more about Rise Against Hunger, or donate to their mission, by visiting www.riseagainsthunger.org.