LSU visits the White House with a gift for Trump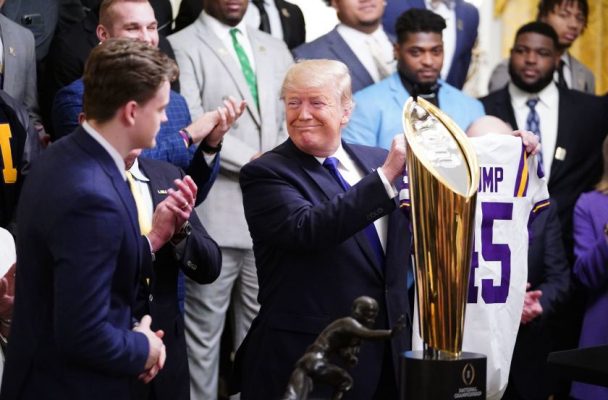 By Alex Bozek
Sports Editor
The Tigers of Louisiana State University took a triumphant trip to the nation's capital to meet with President Donald Trump after their 42-25 win over the Clemson Tigers in the 2020 college football National Championship.
Heisman Trophy winner Joe Burrow was standing right behind the president and had the honor to present him with a purple and white LSU jersey with the number 45 and Trump stitched on the back in bold lettering.
Trump expressed appreciation for the team's gift, shaking hands with the team members and congratulating them on their victory. When presented with the jersey, Trump joked that Burrow was going to share his Heisman Trophy with him.
Trump was brought onto the field for the national anthem where he was received with a loud cheer from the Louisiana crowd of over 76,000 attendees.
LSU Coach Ed Orgeron, or Coach O as they call him, gave a small speech towards the end of the visit. Luckily he was able to slip in his famous line of "Go Tigers!"
Burrow is projected to be the no. 1 pick in the upcoming NFL Draft. In an interview with Bloomberg News, Burrow simply said "Whoever wants to pay me money to play the game of football, I will play for them."
He will have no problem, as he has demonstrated himself to be quite the adept player.