Chiefs and 49ers to play in Super Bowl LIV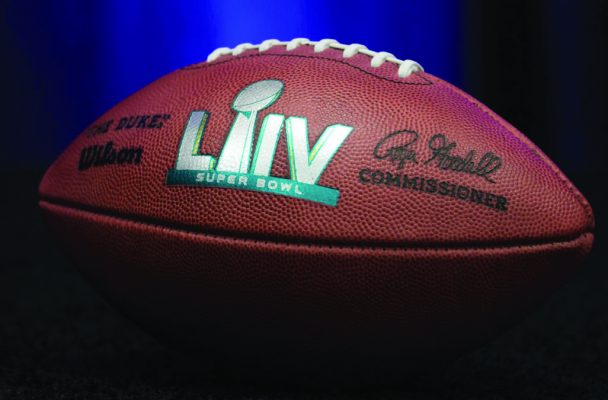 By Alex Bozek
Sports Editor
It is finally here. After what felt like an eternity of the 2019-2020 season, we made it to Miami for Super Bowl LIV. It is the awaited matchup between the Kansas City Chiefs versus the San Francisco 49ers.
The Chiefs had a peculiar journey to get to this point. Their star quarterback Patrick Mahomes went down in week seven with a dislocated kneecap. Despite that, he still had an MVP caliber season.
Over the course of 14 games, he threw for 26 touchdowns, over four-thousand yards and only had five interceptions. Many healthy quarterbacks were not even close to that.
The Chiefs ended the season with a record of 12-4, giving them the
second seed in the AFC Playoffs. They started the playoffs out with a 51-31 divisional round versus the Houston Texans.
They followed it up with a conference championship win against the Tennessee Titans with a score of
35-24. Mahomes threw five touchdowns against the Texans and 3 versus the Titans. He is a force to be reckoned with this playoff.
On the other side, the 49ers out of San Francisco. They finished with a record of 13-3 behind their quarterback Jimmy Garoppolo. He was just as impressive this year, boasting with 27 touchdowns and a total distance of 4000-thousand yards.
San Francisco got to the Super Bowl by beating the Minnesota Vikings 27-10 and then the Green Bay Packers 37-10. They gave up a total of 30 points throughout the whole playoffs. It made for quite an impressive performance and showed that they are a force to be taken seriously.
As you can see, the 49ers thrive on the defensive side of the ball as they have one of the top defenses in the league.
Eedge-rusher Nick Bosa had an insane season for a rookie. He had nine sacks, 32 tackles and one forced fumble. Veteran cornerback Richard Sherman contributed as well, boasting three of the team's nine interceptions, one of which he took one back for a touchdown. He also has an impressive 48 tackles to his name.
How each team can win
Chiefs: The Chiefs will win if they can get their running game working. Throughout this postseason, they relied on their strong rushing tactics. Given the 49ers' insane defense, the Chiefs will not be able to win unless they have a strong running game.
It will be key for the Chiefs to take the weight off of Mahomes' shoulders. He has already proven himself as a generational quarterback, but it is still his first Super Bowl.
The 49ers have allowed an average of 113 rushing yards per game. Along with that, they have allowed 169 passing yards per game. Mahomes cannot be forced to go up against one of the best defenses in the league by himself.
Wide-receiver and part-time running back Tyreek Hill has to have a coming out game. He needs to let everyone in the NFL know that he is here to play. Against Tennessee, he showed a lot of jet sweep style plays. Basically, he would run really fast and the quarterback would hand it off to him mid-sprint. It is a very tricky tactic but it can pay off.
He is the fastest player in the league. If he is able to turn the corner around San Francisco's edge rushers and cornerbacks, he will easily be able to run for over one hundred yards. This will give his team the edge it needs to win.
49ers: The 49ers' path to their sixth Super Bowl will be stopping the Chiefs unstoppable offense. Garoppolo is a good quarterback, do not get me wrong, but their defense is their key to winning come Sunday.
They scored 169 points more than their competition, are eighth in points allowed and second in yards allowed. Look for a big game from their front line. Bosa and Arik Armstead combined for 19 sacks this season.
If running the ball does not work for the Chiefs, they will have to pass the ball forty or more times. And San Francisco's secondary is arguably just as good as their rushers.
Their running game is underrated as well. It is an overlooked aspect of their offense. With this new fad of running the ball, they have jumped on the recent bandwagon of handing it off over 30 times and it has worked.
Their running-back Raheem Mostert has been a beast in the playoffs so far. He had 220 yards and four touchdowns just in the NFC Championship game against the Packers.
But if their defense has played like they have been all season, they should be flying back to San Francisco with the Lombardi Trophy on board.
According to ESPN, the Chiefs are slight favorites. It appears they believe their offense will outweigh the 49ers' defense. If the Niners can stop Mahomes then they will win. If the Chiefs can break through the 49ers' defense, they will win. Of course, each of these are much easier said than done.
San Francisco has not won a Super Bowl since 1994, when Steve Young threw for six touchdowns and Jerry Rice caught three of them.
The Chiefs on the other hand have had their own long drought of Super Bowl rings. It has not been since Super Bowl IV in 1969, which was the last AFL-NFL Championship Game.
A Super Bowl between the best offense and the best defense, that is the ideal situation right. Of course anything can beat that dud of a Super Bowl last year.
With two of the best teams in the league facing off, this will certainly be a Super Bowl to remember.