National Retail Conference includes HPU students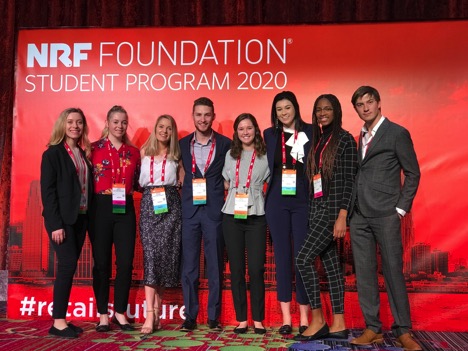 By Faith Foushee
Digital Media Editor
Eight High Point University students from the National Retail Federation student club attended the NRF Student Program in New York City to get their questions about the industry answered.
The NRF student club is a group of students who are dedicated to being retail's great- est advocates and educating other students about the retail industry and opportunities they provide.
The conference began on Jan. 10, but students were able to attend tours of major retailers like Nordstrom and Dick's Sporting Goods as early as Jan. 9 if they were available. The conference consisted mainly of Chief Executive Officers and other major executives speaking to students about their experiences and offering advice about how to be successful in the retail industry.
One speaker that stuck out to many of the attending students was Emily Chang, the most recent Chief Marketing Officer at Starbucks. Chang began her speech by encouraging students to have their own brand slogan to help define them and their strategy.
Chang's brand slogan is, "Raise your hand." She explained that when people volunteer or say yes to something, they raise their hands. Chang lives by the idea of raising her hand to seize opportunities when they arise.
Students also got the opportunity to hear from Jeff Gennette, the CEO of Macy's; J.K.Symancyk, the CEO at PetSmart; Kelly McGinnis, the Chief Communications Officer at Levi's; Daniel Lubetzky, founder of Kind; and several other experienced executives. The students attended breakout sessions where they could hear from representatives at Kohl's, Dick's Sporting Goods, Amazon and other retailers.
Kohl's hosted a networking event at the ice skating rink of Rockefeller Center. Students were able to ice skate and form connections with Kohl's executives and other NRF students to help them when they seek employment in the industry.
The executive mentor experience was many of the students favorite part of the conference. They valued the chance to sit at round tables with executives to get their questions answered. HPU students got to talk to people from Nordstrom, Meijer, Ross Stores, L'oreal, and Brooks Brothers.
The Director of Merchandise Services at Meijer, Joel Isanhart, explained the best way to stand out in your career or internship.
"Make sure to reach out and ask questions and go beyond what is required of you," Isanhart said. "Once you master something, rather than being a rockstar, see how you can influence the people working around you."
The conference ended with a career fair where students had the opportunity to hear about internships and network with recruiters. Retailers in attendance included brands such as Amazon, Gap Inc., TJX, Nordstrom, Wayfair, H&M, L'Brands, Chewy and Sephora.
Students interested in sales representative opportunities and other retail roles used the chance to apply for internships with several of the companies.
Kadin Greenwalt is a sophomore business student and the Project Manager for the NRF student club on campus. He said, "The speakers at the conference shared quality information that I can use in the future as I apply for internships and a career. As a sophomore, I am able to absorb all of this information to be more successful in the future. I was also able to learn about different brands and opportunities that I didn't know existed."
Students interested in joining the NRF Student Association or learning more about the program and its opportunities can attend the bi-weekly meetings on Mondays at 7:30 p.m. in the Kushner Ballroom in Cottrell Hall. The first meeting of the semester will take place on Jan. 20.
Interested students are encouraged to send any questions or comments to NRF president Lexi Davis, who can be contacted at ldavis5@highpoint. edu.