Kansas City Chiefs carry home Super Bowl 54 trophy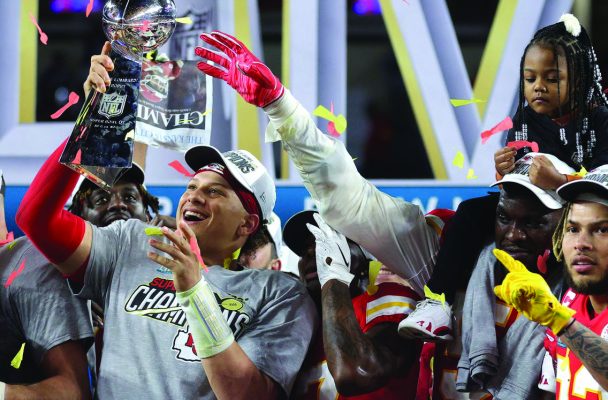 By Alex Bozek
Sports Editor
As I predicted in a previous article, the Kansas City Chiefs won Super Bowl 54. Whether it be luck or skill, over five months ago, yours truly said that the Chiefs would go into Miami and ultimately hoist the Lombardi Trophy for the first time in 50 years.
Yet again, the Chiefs dug themselves quite the hole to climb out of. They were down three points early after the 49ers scored a field goal on their first drive. Despite Chief 's quarterback Patrick Mahomes' responding touchdown, San Francisco led the way in the scoring up until the fourth quarter.
With 6:17 left in the game, the Chiefs were down 20 – 10. Mahomes put on his game face and went to work. Mahomes threw a one-yard touchdown to his reliable tight-end Travice Kelce, starting the comeback. With five minutes to go, it only took seven plays for the Chiefs to get back into the end zone to take a 24 – 20 lead.
Mahomes on 2nd & 7 found wide receiver Sammy Watkins for a 38-yard pass. This gave Chiefs fans hope that their team may actually pull off a win. Now 3rd & Goal from the five yard line, Mahomes threw to his running back Damien Williams who dove for the touchdown.
Referees ruled a touchdown on the field, but did pause to review if Williams stepped out of bounds ahead of crossing into the end zone. It was a very close play, but referees ruled a lack of indisputable evidence to overturn the ruling on the field. Touchdown Chiefs.
The 49ers still had time to recover. Down 24 – 20, they needed a touchdown to re- take the lead. Their quarterback, Jimmy Garoppolo, is no stranger to adversity. He was backup to theto legendary New England Patriots quarterback, Tom Brady, who has six Super Bowl rings to his name. Nevertheless, Garoppolo came up short.
On 4th & 10, Garoppolo dropped back to try and pass to keep their hopes alive and got sacked by Frank Clark of the Chiefs, which was their only sack of the game.
Kansas City got the ball back and it only took two plays to put an end to the game. With just over a minute left, Williams added to his already impressive game a 38-yard touchdown run, putting them out to a two-possession lead of 31-20.
The Chiefs added icing to their cake when Garoppolo's pass was intercepted, capping off an end to the Chief's legendary comeback.
At one point, according to ESPN.com, the 49ers had a 95.4 percent chance of winning the game. Kelce, tight-end for the Chiefs, did not care for that stat. He ended his postgame interview with a loud chant of "you gotta fight, for your right, to Lombardi!"