NBA icon Kobe Bryant dies at 41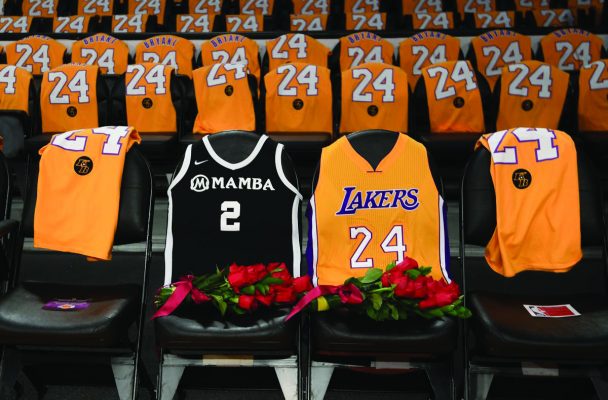 By Elise Coby
Staff Writer
On Jan. 26, NBA icon Kobe Bryant died in a helicopter crash in Calabasas, California.
An ongoing investigation is currently analyzing the crash and tgiving greater insight into the nine people who died as a result of the tragedy. Bryant and his 13-year-old daughter Gianna "Gigi" Bryant were on board with seven other individuals.
There were no survivors. The crash occurred on a steep hillside in Southern California amid a dense morning fog. Bryant's sudden death at age 41 sparked an outpouring of grief and heartbreak for for family, friends and fans of the NBA legend.
Players, celebrities and general basketball fans are continuing to show their gratitude and love for Bryant in a variety of ways. Following the initial reports of Bryant's death, thousands of fans made their way to their home arena, the Staples Center, to place flowers, pictures, jerseys and much more in honor of the legend.
Teams across the league paid their respects by taking a 24 second violation, not shooting the ball within the 24 second requirement, in honor of Bryant's jersey number 24. Players around the league who were numbers 8 or 24, his original and later jersey number with the Lakers, have changed their own.
The Lakers planned a public memorial for Bryant and the eight other killed. They announced the date of Feb. 24 at the Staples Center for the memorial. Fans from all over the world are expected to pay their respects to all involved.
Bryant had one of the most outstanding basketball careers in NBA history while part of the 16-time championship Los Angeles Lakers. Not only was he the league MVP in 2008, but he also became a two-time NBA scoring champion and earned 12 selections to the NBA's All-Defensive teams.
Bryant partnered with Lakers teammates Shaquille O'Neal and Pau Gasol in partnerships to lead the Lakers to multiple consecutive NBA titles. Bryant retired in 2016 after scoring 60 points in his final NBA game.
Before Bryant's retirement from the NBA in 2016, he finished his career with 33,643 career points and appeared in 1,346 games. He also became the youngest player in NBA history to surpass the 30,000 point mark in a career that will receive the highest level of approval this year according to Naismith Basketball Hall of Fame chairman, Jerry Colangelo.
While Bryant became famous for his basketball career, he was inarguably so much more. people and not just basketball fans. His inspiration spans over a wide range of subjects such as culture, art, family and business.
Bryant was the official ambassador for After-School All-Stars, a national charity for children that provides after school programs to 72,000 intercity children. Bryant also supported many other organizations, such as the Kobe and Vanessa Bryant Family Foundation; a foundation to support public charity and to improve the lives of youth and families in need, Make-A-Wish Foundation, Stand Up To Cancer and many more.
Bryant was also a large advocate for women's sports, specifically women's basketball. Bryant and daughter, Gianna, were prominent figures in the women's basketball community.
In response to Bryant's death, O'Neal tweeted "There's no words to express the pain I am going through. @kobebryant I love you and you will be missed. I am sick right now."
While the exact cause of the crash is still under investigation, it was reported by Jennifer Homendy of the National Transportation Safety Board that radar indicated it had a height of 2,300 feet that Sunday morning before descending.
Some experts have suggested that the pilot may have become disoriented due to a dense fog that had settled in the are.. Homendy stated that the investigative teams involved will be reviewing everything from the pilot's history to the engines of the helicopter.
The pilot received clearance to fly in the heavy fog minutes before the crash and was flying at 1,400 feet when he went south and then west.
The pilot had requested for air traffic controllers to provide "flight following" radar assistance, but was then told that the aircraft was too low for that type of assistance. Around four minutes later, the pilot increased altitude, reportedly to avoid a cloud layer.
"When ATC asked what the pilot planned to do, there was no reply. Radar data indicates the helicopter climbed to 2,300 feet (701 meters) and then began a left descending turn," said Homendy. "Last radar contact was around 9:45 a.m. Two minutes later, an individual on ground level called in to report the crash."
The crash killed everyone on board and scattered debris over the distance of a football field.
"It's unfortunate that we don't get a chance to see him coach anymore," Said Dawn Staley, South Carolina's women's basketball coach. "We don't get to see him impact girls' lives. He just talked about WNBA players being able to play in the NBA. We need more people like Bryant sticking up for women's basketball. He did it at the highest level."
More than a week after the loss of her husband and daughter, Vanessa Bryant shared her first statement on social media, thanking the public for their support and and expressing her despair over the crash and all the lives lost.
"There aren't enough words to describe our pain right now," she said. "I take comfort in knowing that Kobe and Gigi both knew that they were so deeply loved. We were so incredibly blessed to have them in our lives. I wish they were here with us forever. They were our beautiful blessings taken from us too soon."
The world will certainly miss both Bryant's inspiring presence in the world of basketball and outside the game. He helped countless people through his advocacy in charity work, business contributions and his role as a father in his family.