Latest Distinguished Lecture Series features orthopedic rehabilitation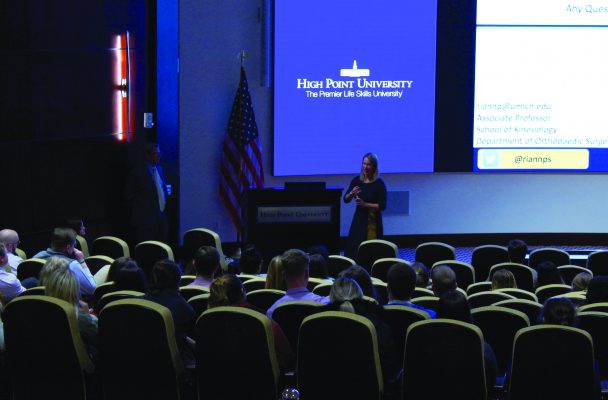 By Elise Coby
Staff Writer
On Feb. 5, High Point University hosted a lecture on orthopedic rehabilitation in the Congdon School of Health Sciences. Dr. Riann Palmieri-Smith, director of the Orthopedic Rehabilitation and Biomechanics Laboratory at University of Michigan's School of Kinesiology, was the keynote speaker for the university's semiannual Distinguished Lecture Series.
Palmieri-Smith's lecture, titled "Maximizing Muscle Strength After ACLR: New Insights into a Clinical Challenge,"corresponds with the goal of HPU's Department of Athletic Training to explore topics on medical rehabilitation.
Palmieri-Smith has published nearly 80 articles in peer-reviewed journals, including The Journal of Athletic Training, American Journal of Sports Medicine, Clinical Biomechanics, Knee Surgery Sports Traumatology and Arthroscopy.
She has given over 80 presentations to organizations such as the National Athletic Trainers' Association, International Ankle Symposium and the American College of Sports Medicine's annual convention. She was awarded the New Investigator Award from the National Athletic Trainers' Research and Education Foundation and earned Fellow status in the National Athletic Trainers' Association.
The topics presented at the panel included ACL surgery, case studies, research findings, the biomedical aspects of orthopedics and different rehab approaches.
Palmieri-Smith highlighted the ongoing problems following ACL reconstruction, including quadriceps weakness, reduced functional performance, the potential for injury, biomechanical deficits and post-traumatic osteoarthritis.
Palmieri-Smith featured 13 studies that showed strength deficits. In two studies, the medical recommendations for the patients had not been met. Palmieri-Smith claimed that this meant those studies did not meet the strength criteria because they risked the health of the patients.
She explained that athletes are being reinjured at high rates because clinics sometimes oversee the objective criteria for patients being safe enough to work. "We really need to shift our current rehabilitation," said Palmieri-Smith.
"We do not just throw things at patients that we think will work, but we also are not focused on targeting the reasons that muscle weakness happens. If we targeted these things better, we may have a stronger patient by the time they return to work."
Through her rehabilitative research, Palmieri-Smith is finding therapies such as "functional resistance training" that can target the underlying causes of quadriceps weakness.
"Some of the work that I have done is focused on eccentric exercise and neuromuscular electrical stimulation," Palmieri-Smith said. "We want to target the mechanisms that are leading to the weakness, and if we target those mechanisms bet- ter, we are going to have better outcomes."
Palmieri-Smith explained that ACL injury ultimately leads to the immobilization or dysfunction of brain signals to muscles. Saline and lidocaine injections are possible treatment methods to address this issue. The saline injection acts as an electrolyte replenisher, while the lidocaine injection is added to block specific nerve signals. These injections reduce pain while simultaneously replenishing the muscle.
"We have 208 patients that are scheduled for ACL reconstruction and are randomized into one of four study arms," said Palmieri-Smith.
Moving forward, Palmieri-Smith desires to continue this study and to help eliminate her previous research limitations. She wants to take advantage of larger sample sizes and implement randomization and placebos.
Palmieri-Smith received $3 million in grant funding from organizations, such as the National Institutes of Arthritis and Musculoskeletal Diseases, the National Institutes of Child Health and Human Development, National Athletic Trainers' Research & Education Foundation and the National Football League. She hopes to obtain a larger grant in the future to pursue future research opportunities.
Students and staff saw a glimpse of what the future may hold for muscle rehabilitation. As new technology advances, Palmieri-Smith's findings will help patients recover fully from their injuries. Her presentation and ongoing studies shed light on the development of a better understanding of taking preventable measures against athletic injuries.