Five chick-flicks on Netflix to binge this Valentine's Day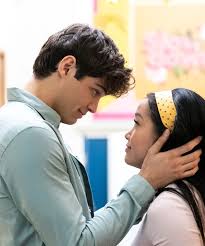 By Emma Ralls
A & E Editor
It's that time of year again, ladies and gentleman. Valentine's Day is just around the corner, and whether you are snuggling up with someone special or having a little me time on the Feb. 14, here are five Netflix chick- flicks to add to your love-day celebrations.
1. "The Notebook" (2004)
It's a classic. Arriving on Netflix just in time for Valentine's Day, "The Notebook" is just what you're looking for in a romantic movie. Ryan Gosling and Rachel McAdams star in the adaptation of Nicholas Sparks's best-selling romance novel of the same name.
The story follows two lovers in the 1940's whose love is tested by class differences and war. It's a movie that will have you swooning and tearing up. It is a must-watch this Valentine's Day season.
2. Someone Great (2019)
This is a newer movie, but that doesn't mean this one won't tug on your heartstrings. Now you may be asking, "Why is a movie about a break up a must-see on a holiday centered around love." Well, because Valentine's Day isn't all about romantic love, but also about loving yourself and your friends.
The movie follows Jenny, a journalist who just got a job in San Francisco causing her relationship of nine years to end. In the little time she has left before leaving New York City, the music journalist recruits her two best friends for one last adventure. Gina Rodriguez knocks it out of the park as Jenny and makes us all feel and root for her throughout her journey. Besides, who doesn't love a Lizzo sing along? You'll laugh, cry, and appreciate the movie more than you ever thought.
3. To all the Boys I've Loved Before: P.S. I Still Love You (2020)
The anticipated sequel to all the Netflix book adaptation "To All The Boys I've Loved Before" is a movie you don't want to miss. It's the most recent movie on the list, having just been released. Laura Jean Covey and Peter Kavinsky (Lana Condor and Noah Centineo respectively) will be returning for the show.
This sequel picks up with Covey and Kavinsky continuing to grow their relationship, but that could all change when Laura realizes one of her love letters has made it into the hands of John Ambrose ( Jordan Fisher) who is back in town and has feelings for her.
When describing his character, Fisher said in an interview with Entertainment Weekly, "I jokingly, not jokingly say that John Ambrose is a daddy. He moves away, loses the stutter, gets a little wiser and a little cooler and comes back as, like, that guy in the corner at a speakeasy with a leather-bound book and horn-rimmed glasses sipping a cocktail."
With the return of old characters and the emergence of new ones, there is no denying that "To All The Boys I've Loved Before: P.S I Still Love You" is one of the most anticipated Netflix Original sequels to come out this year.
4. The Spectacular Now (2013)
Rotten Tomatoes says it is "an adroit, sensitive film that avoids typical coming-of-age story trappings" and has certified it fresh with a score of 93%.
The Story follows Sutter (Miles Teller), a popular high school party animal, who meets his opposite Amiee (Shailene Woodley), a quiet and introverted young girl, after partying hard and waking up im a random yard. A surprising romance blossoms between the two, but will personal problems and their future plans stand in the way? The undeniable chemistry between Sutter and Amiee, as well as the phenomenal writing, makes this movie a treat for anyone looking for a coming of age romance movie to enjoy.
5. The Ugly Truth (2009)
Abby's a jilted TV producer who's hopeless in love and miserably single. Mike is a TV celebrity who has his own misogynistic opinions and theories about what makes men and women tick. When the two are forced to
work on the same TV show, Mike plans to put Abby through the wringer. It's a battle of the sexes that might
just draw two unlikely people together.
The leads are played by Katherine Heigl and Gerard Butler, who do a very good job at playing flawed characters and have amazing on-screen chemistry. It's hard not to enjoy the course they follow throughout the movie in the classic enemies-to-lovers tale. While it is a little predictable, this romantic comedy is a great watch and will leave you satisfied.
Whether you watch a romantic comedy or tear jerker, a movie from this list or not, or even a movie not even on Netflix, happy watching! Oh, and happy Valentines' day too!