Interview with SGA president and Student Life vice president reveals plans for the future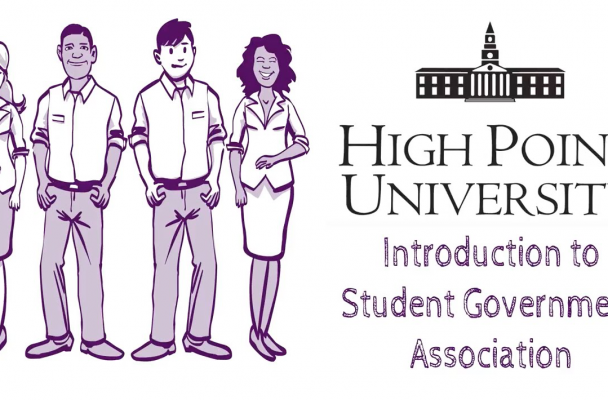 By Julie Burkett
Organizations Editor
Alex Bush, the SGA president and High Point University senior, had an open conversation with the Campus Chronicle about the changes to the event schedule for this semester. He also provided key information about the upcoming SGA election and how it will be managed with the class cancellations due to COVID-19. The elections will still be conducted online, but candidates will meet with the current SGA representatives in a virtual meeting.
"As of when we left for break, elections were still on track and nothing had changed. We adapted the best we can to this situation and will continue doing so."
What is the future for events on campus?
"The future as of today for all events is that any in-person and on-campus events are canceled, except some which will be rescheduled in the Fall. These include events like the Junior Class's kickball, an outdoor movie at Rockers stadium and the Onyx Ball."
What events and elections will be pushed to next semester?
"Our election kick-off party is canceled, but elections are still on schedule. We are doing the best we can to adapt to a fully online format for both the executive council and class officer elections. and working with IT and Campus Concierge. We extended the voting and campaigning period to try and give people more time to be involved and vote in the elections for who represents them next year. Our voting booths and stickers will not be used this year and will be brought back out next year for their debut."
What can new campus organizations do during this time to get funding? 
"Budget defenses for clubs will still be held, but will be done digitally this year. Clubs will submit their budget requests and defend through a video conference during their sign-up time. We are moving forward with honors day awards and recognition even though they will be done digitally." 
Is there anything SGA is doing to prepare for next semester? 
"Unfortunately we will not be returning to campus during my time as president, but I and the current Executive Council will work closely with the new president and Executive Council to make sure they have the documents and expertise we can give them to be successful."
In addition to speaking with Bush, the Campus Chronicle also contacted Gail Tuttle, the Senior Vice President of Student Life who assists SGA in making changes to events and elections. She provided transparency about the possibility of online support and what events will be moved during the semester.
What is the future for events on campus? 
"Future events are something that we are working through; as the situation evolves and changes, we have to make alternative delivery methods or postpone the events. We want to engage with our students, and you will see virtual campus engagements rolling out from Recreation Services, Religious Life, Campus Engagement & Activities as well as Greek Life."
What events/elections will be pushed to next semester? 
"We are still deciding this right now and will make announcements as we finalize things. We are continuing with housing selection; we want to provide every opportunity for our students to still be connected to their HPU community. Our devoted Board of Stewards of the Chapel did a virtual service last night and it was completely done by the leadership of this group. We are so proud of their wisdom and their words of comfort at a time like this."
SGA and the Office of Student life will reschedule any necessary in-person events for next semester while having any online support that students may need. This includes religious and supplemental help from Resident Assistants and Resident Directors. Anyone who has questions about events on campus can contact Gail Tuttle by calling the office of student life or email her at gtuttle@highpoint.edu.