COVID-19 complicates the draft process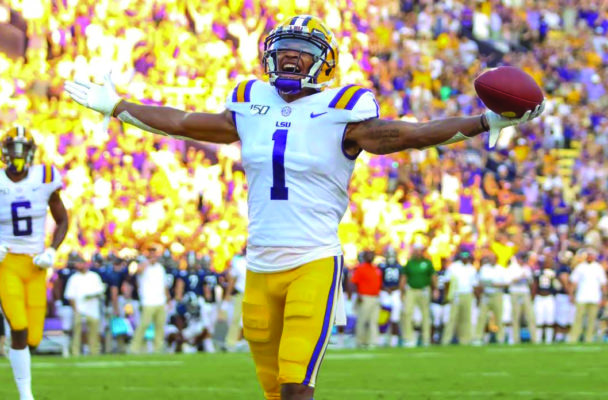 By Noah Stern
Sports Editor
Until recently, COVID-19 has shut down the sports world. With its return comes many restrictions. It begs the question: How are collegiate and professional teams going to collaborate to make sure that each potential draft pick is continuing to perform and prepare for the draft?
Many colleges are postponing fall and winter sports until it is safe to play again. For example, the Big Ten and the Pac-12 Conferences have postponed fall sports, disallowing prominent football schools, like Penn State, Ohio State, Oregon and Stanford, to play this season. But conferences' decision not to play fall sports is only the beginning.
There are many athletes who have decided to opt out of the season due to safety precautions, like LSU standout Wide Receiver Ja'Marr Chase and Oklahoma Running Back Kennedy Brooks. There are almost no teams that don't have at least one player opting out of the season. This clearly affects each school's sports programs, but the impact could be more extensive on the professional scale.
With so many top players not playing their seasons, professional teams will have a difficult time preparing for their respective drafts. Picking the right player for a team is tough enough; now, without seeing some of these athletes play their final season before going pro, it will make the draft decisions challenging. 
How can players and professional teams prepare for the draft process without playing a fall season? The NFL has already announced that they will not accommodate college athletes who decide to opt out of the season. They will not move the date of the draft combine, or the NFL draft, no matter how many top players opt out.
The NBA is a different story. The NBA's draft is scheduled for Oct. 16, and teams will have to judge off of the scouting reports they have from college basketball's shortened season. Many players have been drafted to the NBA for their outstanding performances in March Madness, like Stephen Curry and Anthony Davis. Teams don't have that luxury this year because the pandemic canceled March Madness.
This makes it more difficult for athletes like James Wiseman and Anthony Edwards to prove themselves as top draft picks. Instead, NBA teams have to decide by the talent they've seen in a shortened college season. These flawed draft processes could have potentially dramatic effects on franchises if they end up with a bust.
Draft busts are common; just ask teams like the Washington Wizards and Cleveland Browns. But there's a reason why people make fun of these teams. Their constant draft mistakes have made their franchises laughable. This year, there seems to be more hesitation and worry about each draft pick by every team.
No one in the sports world knows quite enough about the projected picks for each team: whether they're a good fit, whether their talents will translate to the professional leagues or any personal details about the athletes, themselves. The draft process has been an analytical and visual process for many years, but it's turned into more of a gray area for this season. Teams aren't going into their respective drafts blindly, but they are significantly hindered by players opting out and shortened seasons.
Draft-eligible college athletes have had to adjust to their prospective seasons. Regardless of whether they play this season, they are all still looking to get drafted and will do everything they can to try and make the draft process as normal as possible. Still, it's going to be different and more strenuous for every athlete, school and professional team involved. Everyone in the sports world can only hope that their team will make the right selection with minimal information.