'Apogee' magazine seeking submissions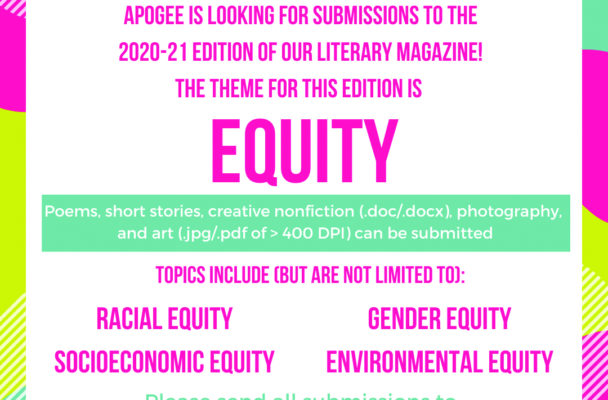 By Elise Coby
Organizations Editor
"Apogee," High Point University's award-winning, biannual literary magazine, is a showcase for student's work, featuring fiction, poetry, personal essays and art from aspiring writers and artists. The magazine was established in 1963 and has been in print for over 50 years.
"When HPU was still High Point College, an alum named Gloria Best started it," said HPU English instructor Allison Walker. "She celebrated its 50-year anniversary with the university during alumni weekend in 2013. Over the years, many members of the HPU family have worked on Apogee, including Pam Haynes, assistant vice president for Communications and the current faculty advisor for the Campus Chronicle, and former Provost, Dr. Dennis Carroll, who retired this past spring." 
Apogee recently released a call for submissions to contribute to their 2020-2021 edition. Each edition embodies a new theme, and this edition's theme is equity. Topics include, but are not limited to, racial equity, gender equity, socioeconomic equity and environmental equity. Submissions for publication may include poems, short stories, creative nonfiction, photography and art. 
"Nicole Prince and I, the co-editors in chief, landed on this theme because it feels so timely," said Bosse. Equity is a topic that is at the forefront of our conversations in our country and around the world at this time. We wanted to create an edition that emphasizes this theme, not only in the content of the work but also in the authors and artists who submit work." 
This year, Apogee hopes to incorporate work from not only the HPU and High Point city community, but also from around the country and internationally. 
"Apogee" literally means the highest point in the development of something. It's a play on words since it's housed at "High Point" University. 
"Under the direction of Dr. Charmaine Cadeau, [associate professor of English and co-director of the Community Writing Center], who came to HPU in 2010, the magazine has blossomed into a gorgeous collection of visual and written creativity from faculty, students and the community beyond our gates," said Walker. "This year, we hope to broaden 'Apogee''s table of contents, in the name of equity."
While there is a wide variety of forms a submission can take, this time there is a particular focus on artworks and photography. Additionally, "Apogee" is working to collaborate with other organizations on campus.
"We're explicitly asking for art and photography submissions from students and faculty in the College of Art and Design and creative submissions from the students of the HPU Honors Scholar Program, who have also chosen equity as their theme of academic inquiry this year," Walker said.
"We're also reaching out directly to HPU student clubs and HPU-sponsored community organizations, such as the Community Writing Center. We're even spreading the word at public libraries, bookstores and coffee shops across the Triad. Our goal is to make the equity issue the best one yet." 
The tradition of the magazine will be carried on through the upcoming edition of "Apogee" that will be published in May 2021.
"This magazine is such a unique collection of work that will represent this year by its theme, the work in it and the artists who contribute to it," said Bosse. "We cannot wait to see what contributors will submit this year. The call for submissions is now open. Anyone can submit. I am so excited about what this edition will bring. This edition of Apogee will show a snapshot of this time [we're living in] and the art that has been created during it." 
Despite the harrowing entrance of COVID-19, earlier this year, "Apogee" persevered and continued to work hard.
"I joined the 'Apogee' team last year, and we had so much fun developing the childhood issue in the spring," said Walker. "When COVID hit, I was amazed by the dedication of my student editorial team; they kept working, even though the world was turned upside down by the pandemic. They managed to get the issue out on schedule, featuring charming artwork by HPU faculty members' children and even the children and grandchildren of our Provost, Dr. Carroll, and the Dean of the College of Arts and Sciences, Dr. Carole Stoneking, both of whom retired at the end of the academic year. Despite the circumstances of quarantine, our childhood issue inspired hope and happiness among all who took a moment to escape into its diverse and colorful world."
Walker expressed that she cares deeply about making this issue successful. 
"It holds a special place in my heart, not only because of the much-needed dose of joy it brought to me in a time of global uncertainty but also because my own family was featured in its pages," Walker said.
For further information and inquiries, students are encouraged to contact apogee@highpoint.edu. All submissions are due by Nov. 6 at 11:59 p.m.